Fernando Alonso has revealed that winning a title with Ferrari would be the first thing he'd wish to change about his time in Formula 1 – but admits not enjoying his career remains his biggest regret.
The Spaniard moved to Ferrari in 2010, aiming to add to the two World Championships he had won in successive years with Renault in 2005 and '06.
Alonso immediately endeared himself to the Italian outfit's world-renowned Tifosi fanbase, winning on debut in Bahrain and scoring three further victories – including at Monza – to lead the Drivers' standings heading into the season finale in Abu Dhabi.
However, a poor strategy enabled Sebastian Vettel and Red Bull to secure a title double, with the German again beating Alonso to the championship at the final race in 2012.
He would depart the Scuderia without seizing the ultimate prize at the end of 2014, leaving Alonso to still rue falling narrowly short on two occasions to this day.
"Winning a championship with Ferrari, that will probably be the first thing I choose if I can go back in time," Alonso admitted on the High Performance Podcast.
"2010, 2012, we were within a few laps of winning the championship.
"That probably could have changed a little bit the outcome of many things and the history behind a few things."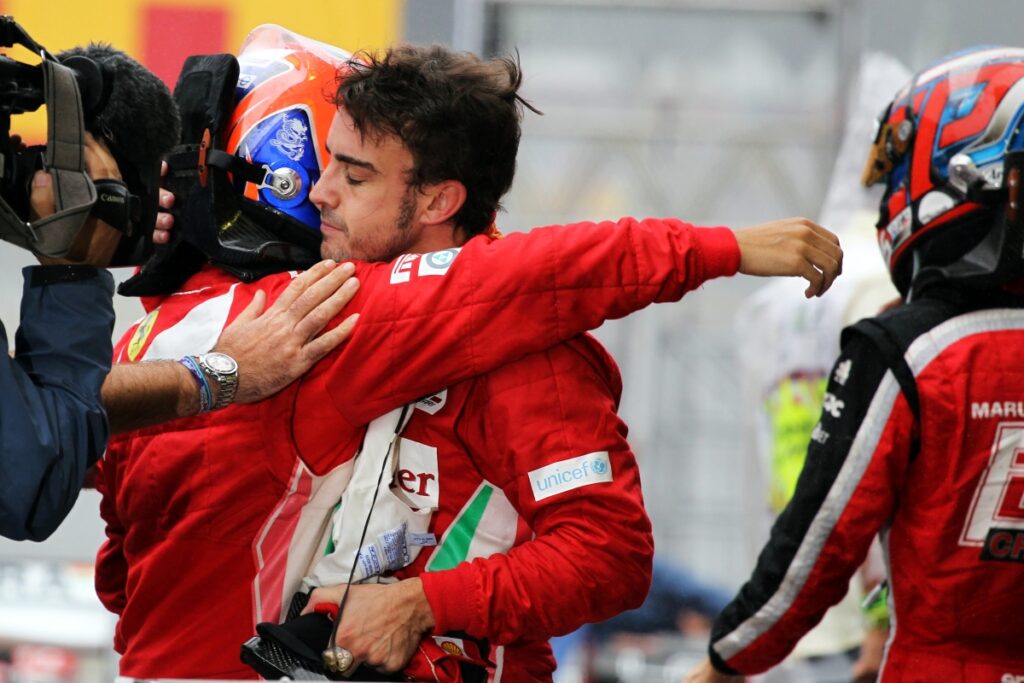 While Alonso still ponders those missed opportunities, the 42-year-old concedes that failing to appreciate his title moments remain his greatest sporting regret.
Following his defeat of seven-time World Champion Michael Schumacher in 2006, Alonso appeared destined to dominate F1.
But despite featuring in championship deciders in three of the next six seasons, the ex-McLaren driver is still striving to add a third Drivers' title to his collection.
"What I regret, for sure, was not to enjoy more my time, my career," he explained. "I know that I am at the end of it.
"There's a new life, in a few years' time for me without driving and when I look back on my career, I will see a lot of good things and good friendships and incredible experiences.
"But it's like I should have enjoyed more. If I had the opportunity to live my exact life once more maybe I don't change anything on my teams, on my choices or this Ferrari title or whatever.
"I would change to live a little bit more all those moments and try to have more memories from those moments.
"I won the championship in Brazil [in] 2005 and 2006, and I hardly remember anything from those afternoons and nights which is sad."
After an acrimonious ending to his Ferrari venture, Alonso made a surprise return to the McLaren side he had previously exited only one season into a multi-year contract.
But his second spell with the Woking-based outfit would be mired by an uncompetitive and unreliable Honda engine, prompting Alonso to leave F1 at the end of 2018.
However, he returned after a two-year absence, driving for the Renault-owned operation that had been rebadged Alpine ahead of the 2021 campaign.
Delays over a contract renewal midway through last year, though, opened the door for Alonso to take the seat at Aston Martin vacated by the retiring Sebastian Vettel.
Whilst he has been criticised for ill-advised career moves in the past, Alonso's arrival coincided with the Silverstone outfit emerging as a front-running contender.
Alonso scored six podium finishes in the first eight races, enough for him to wound up third in the Drivers' Championship – only behind the dominant Red Bull pairing.
Meanwhile, Alpine has been left in disarray since Alonso's departure, with the Enstone camp languishing a lowly sixth in the Constructors' standings and encountering a period of turbulence with several high-profile departures from its senior ranks.