Sergio Perez admits his nightmare Saturday in Australia last time out has remained in the back of his mind ahead of this weekend's Azerbaijan Grand Prix.
The Red Bull driver arrived in Melbourne for the third round of the 2023 season only a single point behind team-mate Max Verstappen at the top of the standings after victory in Saudi Arabia.
However, a scrappy FP3 session was followed by going off at Turn 3 on his first flying lap in qualifying, resigning him to a back-of-the-grid start.
While the Mexican fought back to finish fifth on race day, Verstappen's second victory of the year has opened up a 15-point margin between the two.
But ahead of the season recommencing in Baku with a run of 10 races in 14 weeks, Perez is confident that he and his team have got on top of the issues that plagued his Saturday running at the Albert Park Circuit.
"It obviously stays in the back of your mind," he said. "But you have to reset yourself and move on from that. I think there were many specific issues that we had, all that day.
"It was a horrible day that Saturday, FP3 and Quali, really bad. But I think we understood a lot of the problems that we had. It was not just a single problem that would be really easy just to get rid of.
"It was a combination of a few things that caused us to have these problems. So hopefully, we don't get to see that again. You don't want to see that, especially here in Baku."
Perez has gone well around the Baku City Circuit since it came on to the Formula 1 calendar in 2016, registering the most trips to the podium rostrum of any driver in the event's short history.
In its debut as the European Grand Prix Perez recorded a front-row effort in qualifying – albeit he was demoted five places for a change of gearbox after a crash in FP3 – before making a remarkable recovery to score a podium for the Force India team.
That was followed up by another top-three finish in Baku for the Silverstone outfit two years later, with Perez adding podiums since his switch to Red Bull on the last two visits – including his first win for the Milton-Keynes-based squad in the 2021 edition.
Questioned on why his record is so strong in Baku Perez responded: "Well, I enjoy this place, certainly. I've had good races, good cars as well, that has helped me in the past.
"Those days with Force India, we even made it to the podium and also in Qualifying, we were strong. I think it's a circuit that really suits my style and that has helped me to shine a bit more in this place."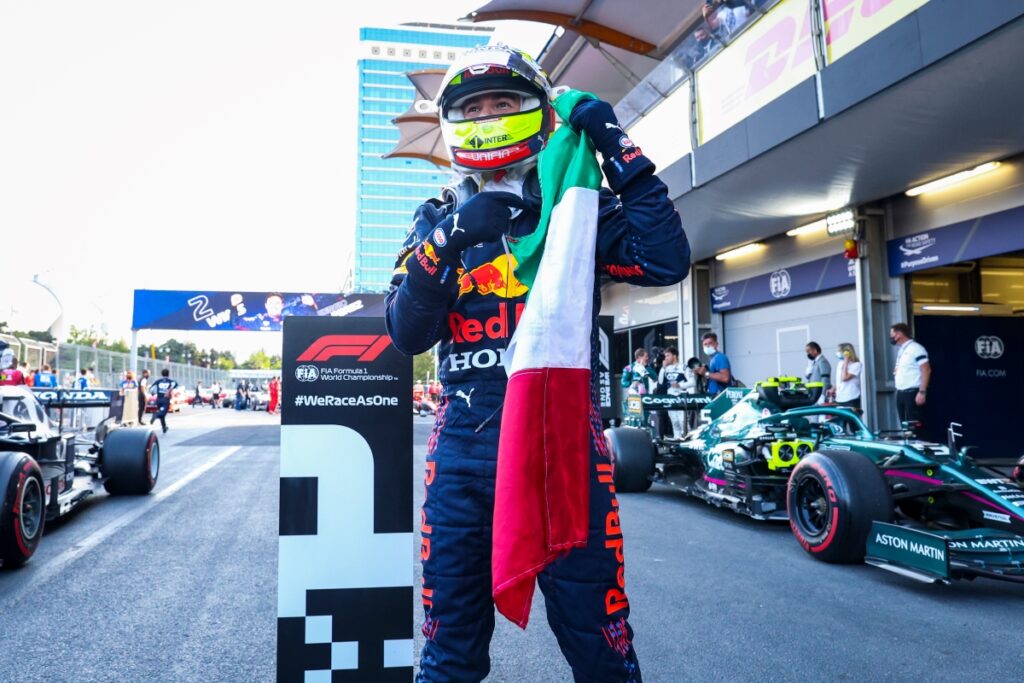 However, Perez is under no illusion that his successful streak in the Land of Fire will count for nothing this weekend, especially when there is a revised format to tackle.
The sprint format will make its first appearance of 2023 in Azerbaijan, with the added twist of a second qualifying session on Saturday defining the grid for the sprint race later that same day.
The drivers will only be afforded one practice session around the unforgiving Baku streets before being thrown into the high-speed spectacle of qualifying.
"Well, I think what you've done in the past doesn't really matter," he declared. "Every weekend it's a new challenge.
"And we come here to Baku and the challenge is even greater with just FP1 and then straight into Qualifying. I think on the street circuit it is important first to finish and normally if you're able to finish then there's always a good result ahead of you.
"So, I think just making sure, Baku is always very easy to make mistakes and finish your weekend. So, I think that will be priority number one, to finish the races – both races – and yeah to build that confidence in FP1 will be key.
Having convincingly won all three races to take place this year, Perez concedes that Red Bull would have been content to have avoided the month-long break that followed the Australian GP.
But the 33-year-old is optimistic the updates the Austrian team have brought to the track will enable it to keep ahead of the opposition.
"Yes, certainly, of course, when you are in a strong position, you just want to keep going and don't let others close up the gap," he added.
"But of course, everyone is working flat out. And we are also doing the same. So, we're not taking anything for granted.
"Hopefully we're bringing some upgrades here. And hopefully we are able to keep on top."