Andrea Stella says the senior management structure at the McLaren Formula 1 team is now much clearer compared to the "undefined" system that was present when he first joined.
Stella, who was recently appointed to the role of Team Principal at the Woking-based squad, first linked up with McLaren in 2015.
At the time, it was enduring a difficult maiden campaign with Honda, with its Technical Director set-up split between Tim Goss, Matt Morris and Peter Prodromou.
Goss and Morris later departed the squad while James Key joined as Technical Director to oversee the production and development of the cars.
Following its difficult start to the 2023 season, McLaren opted to restructure its technical outfit, implementing "three new specialised Technical Director roles".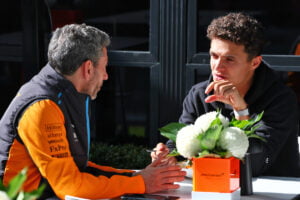 It will see Prodromou focus on aerodynamics, David Sanchez (who will join McLaren in January 2024) on car concept and performance and Neil Houldey on engineering and design.
Stella says that the current iteration is not comparable to McLaren's old structure.
"At the time, when I joined McLaren in 2015, there were three Technical Directors," he said.
"I think the separation of competence was very confusing, even for internal people it was quite difficult to understand who was doing what.
"Now the first difference is we know exactly what the criterion is for this separation. We want, in the structure that we have deployed, to have clear leadership in relation to the three fundamental areas to make a quick car in the modern F1 which is aerodynamics, car concept, and engineering.
"So we wanted to have this model clearly in place as a way of answering the question that Zak [Brown, McLaren CEO] and I have shared right from day one in my role as Team Principal – how do we create a performance-led organisation?
"We needed an approach from a modelling point of view for the Formula 1 team."
While the trio will report to Stella, the Italian says that he doesn't expect to be overloaded with work as he places trust in the decisions that the Technical Directors will make.
"The first difference is at the time [in 2015] the technical structure was quite undefined as to who was doing what," he said. Now we have a clear underlying model of the team and more specifically the technical area.
"In addition to that, at the time the technical group was reporting to the Team Principal, who was not technical.
"Now, we have a technical Team Principal, but I don't expect to be very busy in relation to managing our technical department because first of all like I said we have very strong leaders in each area and ultimately what's important is we bring to the table high-performance ideas.
"That's what we miss the most at McLaren right now and when it comes to making decisions, making decisions most of the time is a simple natural derivation of coming to the table with elaborated and high quality information."
Stella added that McLaren's mindset is not having a singular person making all of the calls at the team.
"I think there's a misunderstanding when it comes to decision-making in F1, I think people think you are there all the time with someone making a decision," he said.
"In reality it is much more about creating competitive ideas because this is what leads to natural decisions, this is the position in what we want to put McLaren in the future.
"We don't want to be at a very comfortable table with somebody in charge making all the decisions but very uncompetitive in terms of the ideas we bring to the table, or actually being in charge setting an upper limit to the level and quality of the ideas the group generate."