Red Bull advisor Dr Helmut Mako says he made a "complete misjudgement" by tipping Mercedes to pursue Lewis Hamilton's signature.
Hamilton made his Formula 1 debut in 2007 with McLaren and won his maiden title the following year following a season-long fight with Felipe Massa.
His following years at the Woking-based squad were less successful, finishing fourth and fifth in the championship from 2009 to 2012.
In September 2012, it was confirmed that the then 21-time grand prix winner would join Mercedes the following year – a decision many questioned.
However, it has transpired to be arguably the greatest driver move in F1 history as from 2014 to 2020, Hamilton claimed six F1 titles and claimed the records for the most wins, pole positions and podiums in the sport.
Three-time F1 champion Niki Lauda, who worked for Mercedes at the time, was a major influence in getting Hamilton to join.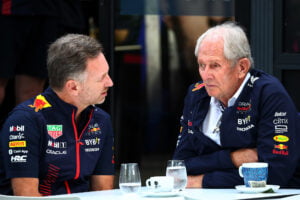 Marko, who shared a friendship with his Australian compatriot, revealed that he informed Lauda that Hamilton would be available for the 2013 campaign.
"I gave him [Lauda] some information that Lewis would be available," Marko told Sport Bild.
"Of course I was not being altruistic. At the time, we thought Lewis would be less of a threat to us at Mercedes than at McLaren, for whom he was driving at the time.
"In retrospect, that was a complete misjudgement, although at the time it was really not foreseeable. But with the knowledge I have today, I would definitely not do that again."
Marko's Red Bull team endured an intense rivalry with Hamilton in 2021, with the Mercedes driver going head-to-head with Max Verstappen for the title.
Verstappen won out in the end, delivering the Milton Keynes-based squad its first championship since 2013.
Mercedes' dip in form over the last 12 months has seen Hamilton compete off the front-running spots, a position he has not found himself in for several years.
Hamilton's contract will expire at the end of the 2023 campaign, however he has asserted his commitment to Mercedes beyond the year on a number of occasions.