George Russell believes that Red Bull is purposely holding back its true pace to avoid interference from the FIA, who could look into changing the regulations.
Red Bull has won the first three grands prix of the 2023 season and has showcased strong pace in race trim at each event so far.
The Milton Keynes-based squad dominated the 2022 campaign and appears to have increased the gap over its competition at the start of 2023.
Russell says that he is sure that Red Bull is tuning back its car and believes that its true advantage is well over half a second on the rest of the competition.
"For sure they're holding back," Russell said via the BBC's Chequered Flag podcast. "I think they are almost embarrassed to show their full potential because the faster they seem, the more that the sport is going to try and hold them back somehow.
"I think realistically they probably have seven-tenths advantage over the rest of the field.
"I don't know what the pace difference looks like at the moment but Max has got no reason to be pushing it nor has Red Bull.
"They've done a really great job to be fair to them. We can't take that away, and we clearly have to up our game."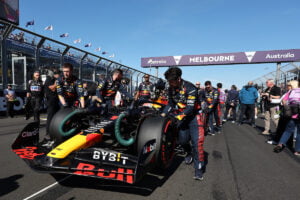 Horner: Mercedes no stranger to strong F1 advanatge
While Red Bull has been dominant in the races in 2023, battles in qualifying have been a lot closer, despite it also taking three pole positions from three races to start the year.
Russell's comments were put to Red Bull team boss Christian Horner, who said: "OK, that's very generous of him. His team of all people would know too well about those kind of advantages."
Horner was referring to the dominant stretch that Mercedes enjoyed in the early years of the turbo-hybrid era.
Ex-technical director at Mercedes Paddy Lowe later admitted that the team had tuned down its engine in qualifying to avoid displaying its true advantage during 2014.
When asked if it was true that Red Bull is keeping its true pace hidden, Horner replied: "There's always an element of managing that goes on in any race.
"Because it was a one-stop race and a very early one-stop race, of course there was an element of tyre management which was going on, which was what they were doing.
"Checo wasn't hanging about, he wasn't cruising around, holding back seven-tenths per lap, because he didn't want to show it. The grid was certainly a little bit closer here at this venue [in Australia]."