Fernando Alonso will return to Renault for a third spell next year and to mark the occasion MotorsportWeek.com takes a look back at the high points of his first two stints with the manufacturer.
Australia 2003
Alonso made his F1 debut with Minardi in 2001 and after a year out as Renault's test driver returned to a race seat with the manufacturer in 2003, taking seventh position first time out in Australia for his maiden points
Malaysia 2003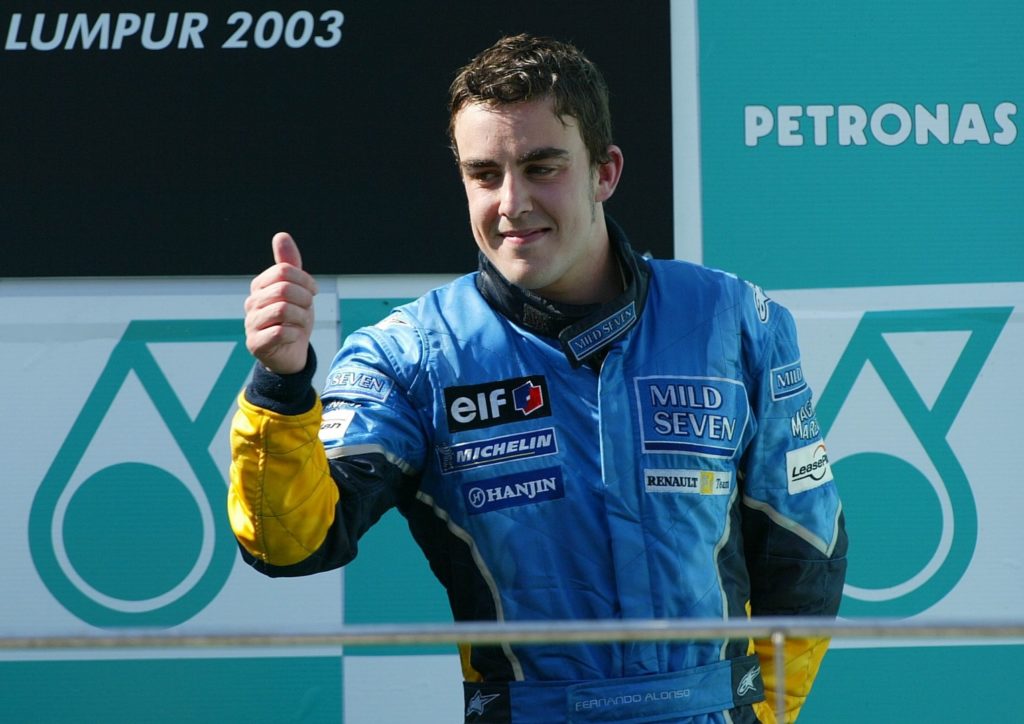 Just one race later Alonso claimed his maiden pole position in Malaysia and went on to score a first podium in the race – which was won by Kimi Raikkonen, the Finn's first triumph in Formula 1.
Hungary 2003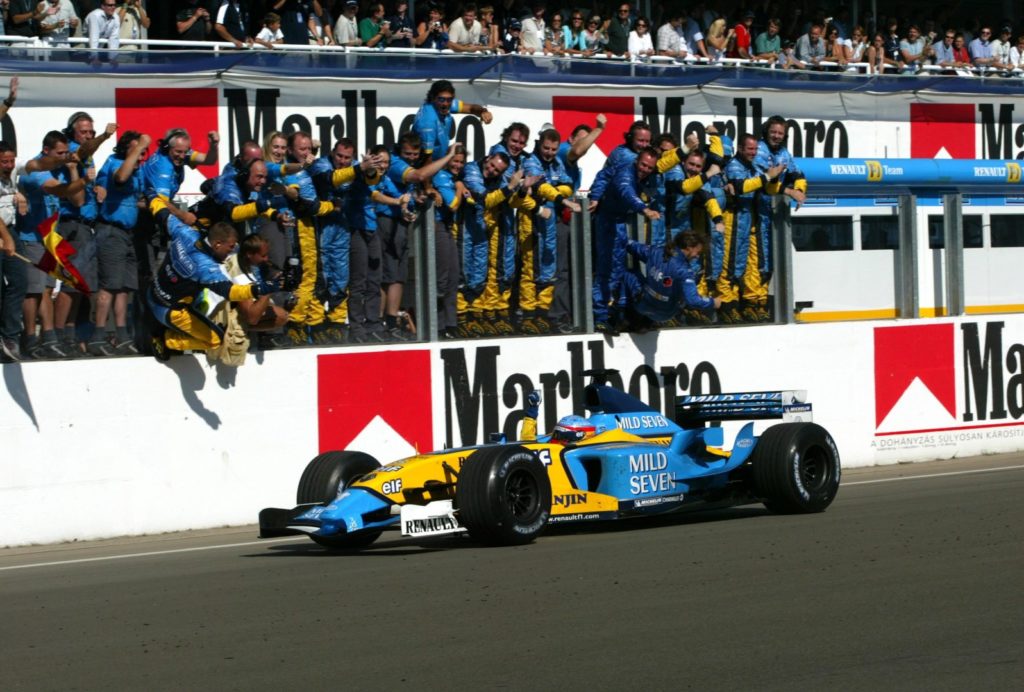 Alonso took a brilliant second in Spain and eventually the first win came with an emphatic display in Hungary from pole position, as he lapped champion Michael Schumacher. A win-less campaign followed for Alonso in 2004 but there were brighter times ahead…
San Marino 2005
As Ferrari faltered, and McLaren hit hiccups, Alonso and Renault started the 2005 campaign strongly. After victories in Malaysia and Bahrain Alonso brilliantly held off Schumacher at Imola for his third win in succession.
France 2005
Alonso and Renault came close in France in 2004 but 12 months later finally delivered the home victory that the marque craved, besting his rivals comfortably at Magny Cours.
Brazil 2005
Alonso went four races without a win as McLaren hit form but third at the antepenultimate round in Brazil would be enough for the title – and that's were he finished, becoming Formula 1's youngest world champion.
China 2005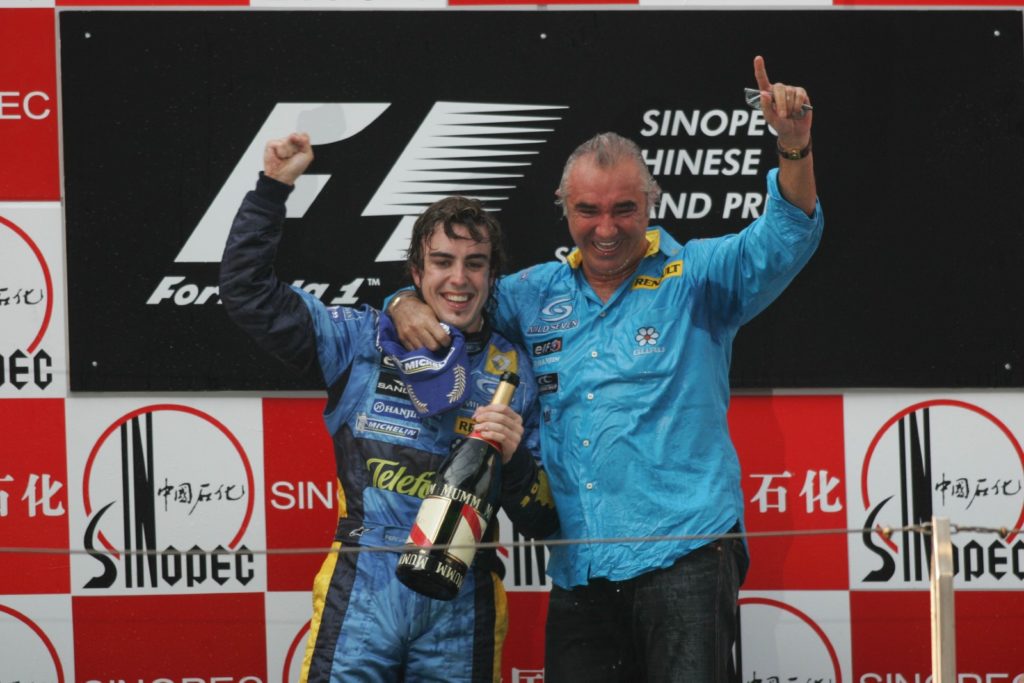 Alonso had his title but the Constructors' battle went down to the wire in China. Alonso controlled proceedings from the front for his seventh win of the campaign, sealing the crown for Renault.
Spain 2006
As reigning champion Alonso was in emphatic form early in 2006 but one win meant more than the others. On home soil, with grandstands full of the blue-and-yellow colours of both Renault and Alonso's native province of Asturias, he dominated and took his first Spanish GP win.
Monaco 2006
Renault had lacked pace in Monaco in 2005 and 12 months on Alonso missed out on pole to Schumacher in controversial fashion, when the Ferrari driver 'made a mistake' at Rascasse. Stewards handed Schumacher a penalty, Alonso inherited top spot, and controlled the race for victory.
Japan 2006
Alonso held a sizeable points lead mid-season but a controversial ruling on mass dampers, allied to Ferrari's charge, stymied his effort. Alonso failed to win for seven races, including two retirements, and he was level on point with Schumacher. At the penultimate round in Japan Schumacher led, but an engine failure handed the lead to Alonso, and he claimed a vital victory.
Brazil 2006
Alonso still could have let the title slip through his grasp at Brazil's season-ender as if he failed to finish, and Schumacher won, then on victory countback it would have been an eighth crown for the German. But a comfortable second for Alonso ensured title number two for himself and Renault.
Australia 2008
When 2008 got underway Alonso was back with Renault – but after a switch to Bridgestone, and other personnel changes, it was no longer a title-winning force. Alonso took fourth in Australia but equalling that result was as good as it got across the next 13 rounds.
Singapore 2008
Alonso was genuinely quick in Singapore but an issue in qualifying left him only 15th on the grid. An aggressive strategy, and Safety Car timing, allowed Alonso into the lead to claim a shock win. A year later the Crashgate scandal unravelled, revealing Renault's ploy, but Alonso maintained his innocence in the matter, a claim the FIA later validated.
Japan 2008
One round later and Alonso took the win on merit. As the McLaren and Ferrari drivers feuded it left Alonso and BMW's Robert Kubica to battle for victory. Alonso bested the Pole on pace and strategy to pick up victory – his last win for the marque, and to date Renault's most recent victory as a standalone manufacturer in Formula 1.
Singapore 2009
Renault delivered a dud in 2009, leaving Alonso scrapping for the lower points, but a low-fuel run led to pole position in Hungary and that was followed by a podium in Singapore, as he finished third. Alonso left for Ferrari at the end of the season.