Formula One is a ruthless environment in which even the most talented of drivers often struggle to produce consistent results. As a result, many of them often get replaced or dropped, leaving their career in limbo. In other cases, teams crumble under the intense financial pressure that comes with competing at the pinnacle of motorsport.
In any case, drivers that leave F1 for one reason or another then often turn to endurance racing to prove their talent and forge a legacy. Today, Motorsport Week looks at ten drivers that had greater success in sportscars than during their spell in Formula One.
For this feature, we look at drivers that turned to sportscar racing after exiting Formula One. Drivers that had already achieved success in sportcars prior to their Formula One career like Sebastien Bourdais or Allan McNish will not be included, nor will drivers that raced in both disciplines simultaneously (like Martin Brundle or Derek Warwick). Drivers that achieved success in both disciplines but whose careers were more defined by their time in Formula One, like Mark Webber and Giancarlo Fisichella, will also not be appearing.
Exemptions will be made for drivers that had very brief stints in sportscars before Formula One during which they achieved little of note or started endurance racing in the dying days of their Formula One career.
Felipe Nasr
Let's start off with a bit of a curveball. People that aren't too familiar with the IMSA Weathertech Sportscar Championship might not be aware that this Brazilian driver has managed to acquaint himself well on the other side of the Atlantic, winning major events and championships along the way.
Nasr had two full season of racing in Formula One, joining Sauber in 2015 after spending a year as test driver at Williams. He partnered Marcus Ericsson at the Swiss backmarkers and instantly impressed with a fifth place finish on his debut at the Australian Grand Prix. He would score a total of 27 points in his debut season but had a far more difficult time in 2016 as Sauber struggled. His 2016 exploits are best remembered for an incident during the Monaco Grand Prix, when Sauber told Nasr to let Ericsson past. The impatient Swede then took initiative into his own hands and attempted to pass his team-mate at Rascasse, botching the move and sending Nasr into an expensive and embarrassing spin that resulted in a quite a bit of broken carbon fiber.
Nasr was replaced by the incoming Pascal Wehrlein for 2017 and in 2018 made his full-season debut in the IMSA Weathertech Sportscar Championship, driving the #31 Whelen Engineering Cadillac DPi-VR. Podium finishes at Daytona, Sebring, Canadian Tire Motorsport Park and Road America as well as a win at Detroit were enough for Nasr and Eric Curran to win the championship. In 2019, Nasr would score another podium at Daytona, as well as a victory in the season closer at Petit Le Mans en route to second in the championship behind Team Penske and was retained by Action Express Racing for the 2020 campaign.
Sebastien Buemi
Today, Buemi could be considered one of the most successful and multi-faceted drivers currently active, racing in the FIA World Endurance Championship as well as Formula E. He joined Toro Rosso in 2009, becoming the first Swiss F1 driver in over a decade and finished the year as the best rookie. Buemi's 2010 F1 season is most remembered today for his peculiar incident in practice for the Chinese Grand Prix, when both his front wheels flew off under braking at the end of Shanghai International Circuit's back straight. Nobody was injured. Buemi's F1 career ended after 2011, when he and Jaime Algersuari were replaced by the incoming pair of Jean-Eric Vergne and Daniel Ricciardo. He hasn't raced in F1 since, but has retained a connection with Red Bull Racing as test and reserve driver.
In 2012, Buemi joined Toyota Gazoo Racing for the 2012 24 Hours of Le Mans, driving the #8 TS030 Hybrid alongside fellow ex-F1 drivers Stephane Sarrazin and Anthony Davidson in a race that was marred by Davidson's terrifying backflip at Mulsanne Corner, after which the car was retired. Buemi joined Toyota for the full WEC campaign in 2013 and has remained with the Japanese squad ever since, winning the World Endurance Championship twice in 2014 and 2018/19 as well as taking two straight overall wins at Le Mans in 2018 and 2019.
Henri Pescarolo
It might not be entirely fair to call Pescarolo an underwhelming F1 driver. After all, he raced in F1 for nearly a decade and achieved a podium at the 1970 Monaco Grand Prix with Matra. However, when looking at his exploits outside of F1, it's difficult to argue that Pescarolo's legacy is defined by what he did in sportscars.
He holds the current record for the highest number of participations in the 24 Hours of Le Mans. He debuted at La Sarthe in 1966, again with Matra, before going on to compete in a staggering 33 editions of the French endurance classic. He would take four overall wins, three with Matra partnering Graham Hill and Gérard Larrousse respectively and one with Joest Racing in 1984, driving a Porsche 956C with Klaus Ludwig. Two further class wins in 1976 with Inaltera and 1992 with Courage Competition also followed before Pescarolo would set up his own squad.
Founded in 2000, Pescarolo Sport was one of the leading privateer squads in the early 2000s and would frequently take the fight to the manufacturer might of the likes of Audi and Peugeot, finishing fourth in their debut at Le Mans only behind Audi's all-conquering R8. The team would later also enter cars under its own name, having extensively modified existing Courage chassis and continuing to win races and championships as well as challenging Audi at Le Mans, taking second place in 2005 and 2006. The team continued to race and build cars before closing in 2014.
Yannick Dalmas
A Formula Three champion in 1987, Dalmas debuted in Formula One at the tail end of the same year when Larrousse entered a second Ford-powered Lola LC87, allowing the Frenchman to line up alongside Philippe Alliot at the Mexican Grand Prix. Dalmas finished ninth on his debut, and would score a career-best finish at the final round in Australia, coming home in fifth, three laps behind Gerhard Berger's winning Ferrari. He would race for three more years in F1, despite battling Legionnaires' Disease. He spent one more year with Larrousse before he was dropped and moved to AGS, but he often failed to qualify. After his initial exit from F1, he would make two more starts for Larrousse in 1994 before the French team collapsed.
Not content with pootling around at the back of the F1 grid in the uncompetitive AGS machinery, Dalmas signed on with Peugeot's Group C team in 1991, where he would experience far more success. After a competitive first year, Dalmas teamed up with Derek Warwick and the duo, paired with Peugeot's mighty 905, were a force to be reckoned with. The pair would win the 1992 World Sportscar Championship that year's Le Mans when they were joined by Mark Blundell. He would win Le Mans three more teams, with three iconic cars. First, he captured a second win in 1994 driving the ill-disguised Dauer Porsche 962. He then piloted the McLaren F1 GTR to glory alongside JJ Lehto and Masanori Sekiya in 1995, before adding a fourth win in 1999 by winning in the BMW V12 LMR with Joachim Winkelhock and Pierluigi Martini. These days, Dalmas is a steward for Formula One and can also be found driving the safety car in the FIA World Endurance Championship.
Anthony Davidson
Davidson, a winner of the BRDC Young Driver Award, spent one full season racing in Formula One when he was signed by Super Aguri for the 2007 season, partnering Takuma Sato. The highlight of his season was arguably his qualifying performance during the Turkish Grand Prix. In 2008 he had four more race starts before the Japanese backmarker folded. Davidson would not start in F1 again.
Instead, he signed for Peugeot to drive in the Intercontinental Le Mans Cup, which he would help the French manufacturer win twice in a row before it pulled on the eve of the new FIA World Endurance Championship. Davidson instead joined Toyota for the 2012 edition of the 24 Hours of Le Mans, which has since become infamous for the Briton's terrifying back flip crash in which he broke his back. He recovered to rejoin the team in 2013 before winning the 2014 World Endurance Championship alongside Sebastien Buemi. In total, he scored ten race wins with Toyota in the WEC and came agonizingly close to winning Le Mans in 2016. After moving aside for Fernando Alonso, Davidson moved on to LMP2, spending the 2018/19 Super Season with Dragonspeed before joining JOTA alongside Roberto Gonzalez and Antonio Felix da Costa for the current season. He added another win in Shanghai and additional podiums at Bahrain and COTA. Motorsport Week had an in-depth interview with Davidson about his crash and road to recovery in December, which you can read here.
Jan Magnussen
There might be few more infamous examples of a promising Formula One career flaming out than that of Corvette legend Jan Magnussen. Magnussen, father of current Haas F1 driver Kevin, was the next big thing in the late nineties after dominating British F3, prompting Jackie Stewart to declare him 'the most talented young driver to emerge since Ayrton Senna'. He debuted for McLaren in 1995, subbing for Mika Hakkinen at the Pacific Grand Prix before signing for Stewart Grand Prix in 1997, but he was out half way through the 1998 campaign as Stewart replaced the underperforming Dane for Jos Verstappen. He would never race in Formula One again.
After his F1 exit, Magnussen debuted at Le Mans in 1999 with Panoz and would make a total of 21 starts in the French endurance classic, the vast majority of which were with Corvette Racing, with which Magnussen has become synonymous. Four Corvette class wins followed in 2004, 2005, 2006 and 2009. Magnussen would primarily make his mark in the IMSA Weathertech Sportscar Championship, which he would win in 2017 and 2018, as well as class wins in the 24 Hours of Daytona (2015) and the 12 Hours of Sebring (2015 and 2017).
Kamui Kobayashi & Kazuki Nakajima
Okay, this is technically cheating, but these two drivers are quite similar in terms of what they have done in Formula one and where they have ended up since leaving. Nakajima, son of ex-Lotus and Tyrrell racer Satoru, made his F1 debut first in 2007 and spent all of his tenure with Williams after replacing the retiring Alexander Wurz. His debut was marred by hitting two mechanics during a pitstop. He was retained for 2008 and 2009 but was dropped for 2010.
Kobayashi meanwhile debuted in 2009 subbing for the injured Timo Glock at Toyota, clashing with Kaz at the Singapore Grand Prix before joining Sauber when Toyota pulled out after the end of his rookie season. Murray Walker described Kobayashi as 'without a doubt Japan's best [F1 driver] yet' and he scored a podium at the 2012 Japanese Grand Prix, the first podium for a Japanese driver since Aguri Suzuki in 1990.
After leaving F1, both drivers would compete and win in a number of national and international championships, but the two came together at Toyota Gazoo Racing, racing in the FIA World Endurance Championship. Nakajima debuted with Toyota in 2012, Kobayashi joined in 2016 after debuting in the WEC with AF Corse's GTE Pro outfit in 2013. Nakajima, much like Davidson and Buemi, lost a certain win at Le Mans in 2016 when he crawled to a halt with mechanical failure in the final minutes. He has since won the race twice in a row in 2018 and 2019 en route to a Super Season title alongside Buemi and Fernando Alonso. Kobayashi, on the other hand has had less success in the WEC, but has taken back-to-back wins in the Rolex 24 at Daytona with Wayne Taylor Racing in 2019 and 2020.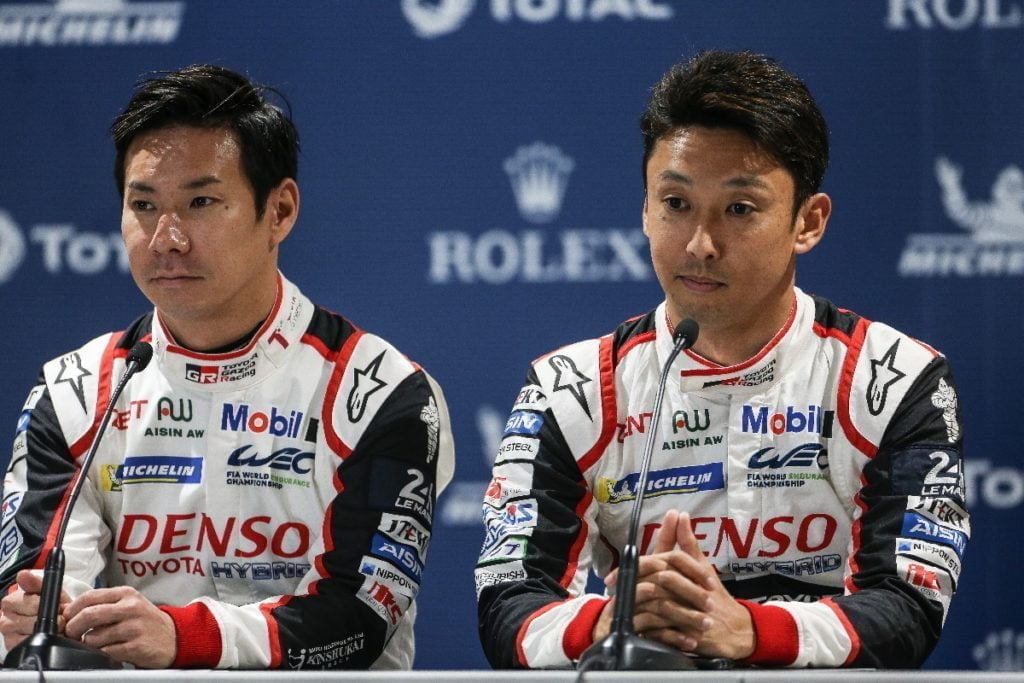 Bruno Senna
The nephew of the late Ayrton Senna, one of young Bruno's first admirers was his own uncle, with Ayrton saying in 1993: "If you think I'm fast, just wait until you see my nephew Bruno." After graduating through Formula Three and GP2, Senna struggled to find a seat in F1 but ultimately debuted in 2010 with Spanish minnows HRT, but was dropped after nine races before a final appearance at the German Grand Prix. In 2011, he replaced Nick Heidfeld at Lotus Renault before spending his final F1 season at Williams alongside Pastor Maldonado. He scored 32 points from 46 starts, but left F1 after Williams dropped him in favour of a Finnish up-and-comer by the name of Valtteri Bottas.
After leaving Formula One, Senna has forged a legacy in the FIA World Endurance Championship since debuting in the series with Aston Martin in 2013. With his victory in Shanghai in 2019, the Brazilian became the first driver in the history of the championship to win a race in all four classes of the WEC: LMP1, LMP2, GTE Pro and GTE Am. In 2017, after signing with Rebellion, he won the Endurance Trophy for LMP2 Drivers alongside Julien Canal and the Teams trophy with the Swiss privateer squad. He has remained with Rebellion through its current LMP1 campaign and is currently Toyota's main challenger in the 2019/20 season alongside Gustavo Menezes and Norman Nato, taking three straight pole positions and wins in Shanghai and COTA.
Jan Lammers
One of the leading lights behind the return of Dutch Grand Prix to the F1 calendar, Lammers was once one of the Netherlands' premier Formula One drivers before Max Verstappen took the sport by storm in the V6 Hybrid era. Despite this, Jantje's F1 results aren't as impressive as one might assume. He debuted in 1979, driving for Shadow and recording a career-best finish at the Canadian Grand Prix before signing with ATS for 1980, but moved to Ensign halfway through the season and back to ATS in 1981. A move to Theodore for 1982 proved particularly fruitless, and apart from a one-off deal for two races with the Leyton House March in 1992, his F1 career was over. He entered 41 Grands Prix, started 23 and failed to score a point.
After leaving F1, Lammers made his Le Mans debut in 1983 alongside Richard Lloyd and Jonathan Palmer in a Porsche 956, the first of his 24 starts at La Sarthe before moving to the TWR Jaguar squad that would arguably define his racing legacy. In 1987, he took four wins en route to the runner-up spot in the World Sportscar Championship before putting an end to Porsche's reign of dominance with a heroic performance at the 1988 24 Hours of Le Mans. Partnered with Andy Wallace and Johnny Dumfries, the Dutchman piloted the XJR-9 for 13 out of 24 hours, and held off a furiously chasing Klaus Ludwig with a broken gearbox to win. He would also take two overall victories at the Daytona 24 Hours in 1988 and 1990.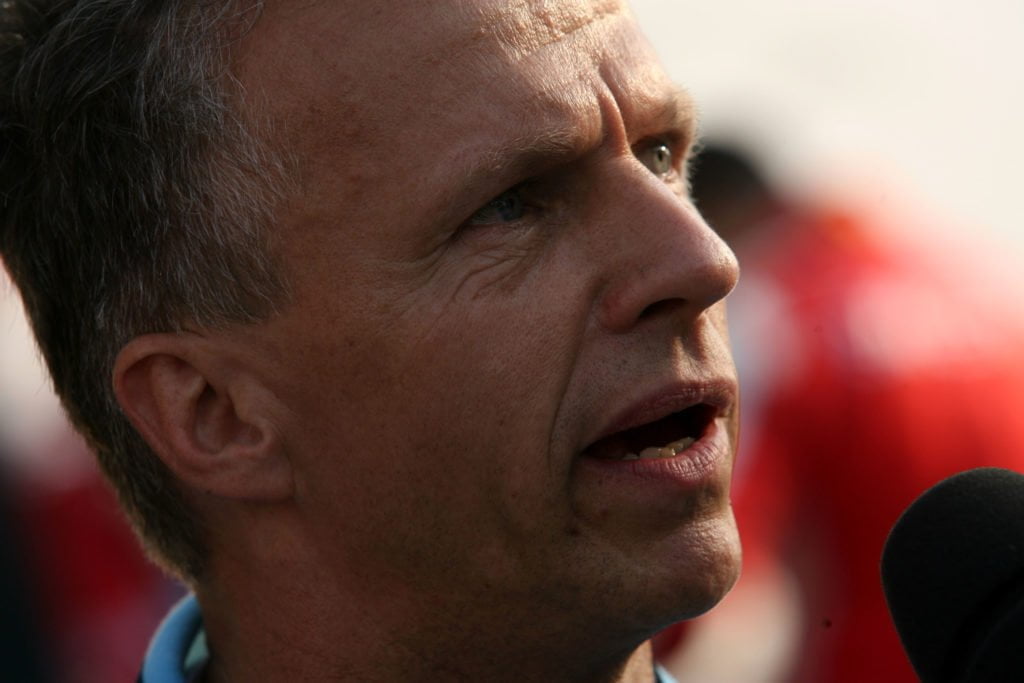 Christian Fittipaldi
Christian Fittipaldi, nephew of double World Champion Emerson, is perhaps best remembered in Formula One for his bizarre backflip crash in 1993, when his Minardi hit the back of his team-mate Pierluigi Martini after crossing the line at the Italian Grand Prix, for which the both of them still blame each other. It happened in his second and last season with Minardi after debuting in 1992. He then moved to Footwork for 1994.
Before making the full transition into American sportscar racing, Fittipaldi had already won the 24 Hours of Spa in 1993. He would then take his first of three Daytona overall wins in 2004 with Bell Motorsports, and two more with Action Express Racing in 2014 and 2018, the first of which was en route to one of two IMSA Weathertech Sportscar Championship titles, of which a second one would follow a year later. He would also win four Michelin Endurance Cup titles, the 12 Hours of Sebring in 2015, as well as additional victories in the Six Hours of The Glen in 2013, 2017 and 2017.
Did we leave your favorite driver off the list? If we have, leave us a comment or write to us on Twitter at @motorsportweek.