One test down, one test to go, but what were the main talking points from the opening trio of days in Barcelona? Motorsport Week reflects on the first week of running.
Mercedes' innovation lit up the opening test
The first day of testing was deeply underwhelming as all 10 teams racked up decent mileage. No-one really stood out. No-one had a disaster. And then on Thursday morning TV footage picked up Mercedes' steering wheel moving back and forth along the straights. For a paddock starved of intrigue it lit the powder keg and became a frenzied focus of intense scrutiny. The main focus was initially on the legality and that several rival drivers and teams were quick to applaud, rather than instantly cast doubt on whether it was permitted, spoke volumes. The exact benefit of DAS – Dual-Axis System – remains to be seen, in terms of one-lap and race lap time, depending on the circuit in question. Mercedes quickly clarified that it had been given the all-clear by the FIA while its drivers dismissed any suggestions that it could be ruled out on safety grounds. It is an exceptionally clever piece of engineering that will take time – and investment – for any rivals to copy, and even if they do it will be outlawed for 2021, courtesy of the ludicrously complicated wording of the regulations.
But it's not all about DAS
Yet to suggest Mercedes is ahead because of a moveable steering wheel would be somewhat misguided. Mercedes' W11 is an evolution of a car that won 15 out of 21 races and secured the team a sixth straight double title. It is no surprise that the car is quickest. What is a surprise is the manner in which the team goes about its business. Usually in testing Mercedes appears almost exclusively on C2s or C3s – especially in the first week – but this time around it bolted on the C5s early doors and almost broke the track record. The long run data was also favourable for Mercedes. Its only hiccup was a minor electrical issue that cost pacesetter Valtteri Bottas some track time on Thursday afternoon. But it still completed the most laps overall, with Lewis Hamilton the most productive driver through the three-day test. Best driver. Best car. Best team. It is a worryingly potent combination. Mercedes struggled through the first test last year (albeit knowing that an almost-entirely-new car was coming for test two) but this time around it has picked up where it left off in 2019, while correcting the minor ailments that afflicted the W10.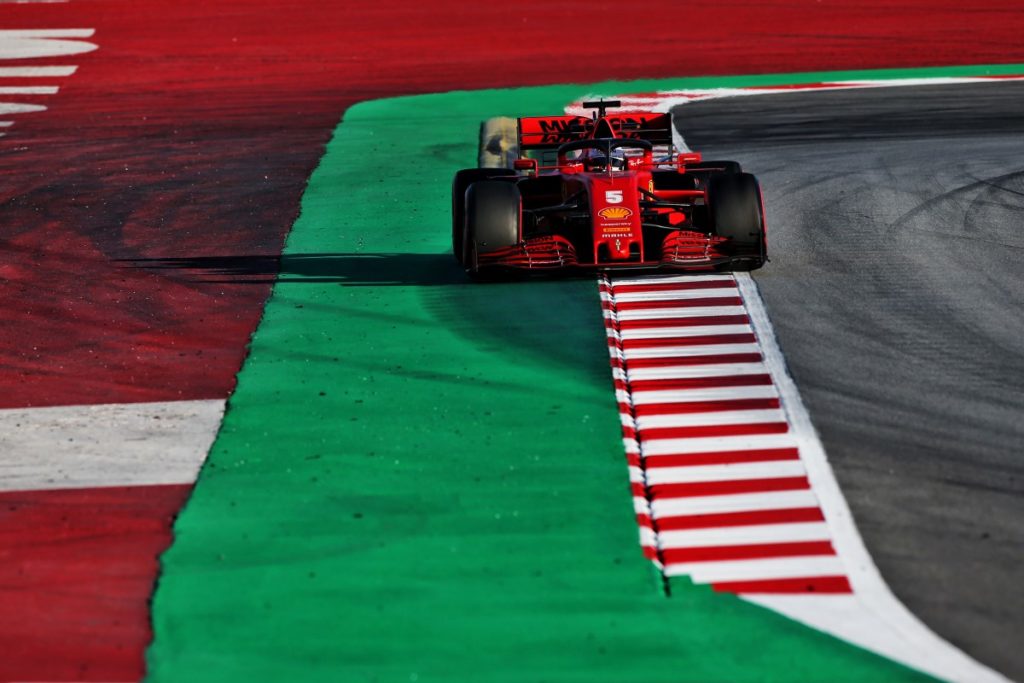 Ferrari is playing catch-up
Ferrari was badly stung by its deceptively encouraging start to 2019 and its representatives were keen to stress that it has taken a "radically different" approach to 2020's pre-season tests. But even accounting for such an explanation Ferrari had an extremely subdued test to the extent that its SF1000 was almost anonymous, with Mercedes' in-house press team publicly querying why only the factory team was running reduced power settings. Of the 21 drivers Sebastian Vettel was 14th overall, with Charles Leclerc 16th. No-one will care about an off-the-pace and off-the-radar first test if the SF1000 lights up the timing screens and emerges as a title contender, but Mattia Binotto's comments only added uncertainty to the Ferrari mystery. "I am not as optimistic as last year, some of the others are faster than us at the moment, I believe, how much faster is really difficult to judge and I will go through all the data in the next few days but I don't think we are as fast as them at the moment," he said. "Do we have any concerns? Certainly, yes, when you are not as fast as you would like to be. But I think it is too early to define it and understand it." Binotto was astutely keen to point out that the second test will provide greater insight, while both Vettel and Leclerc highlighted positives, claiming there had been more downforce unearthed and the car had greater set-up flexibility than its predecessor. Its power settings also had a huge impact on lap times. But right now Ferrari is behind Mercedes.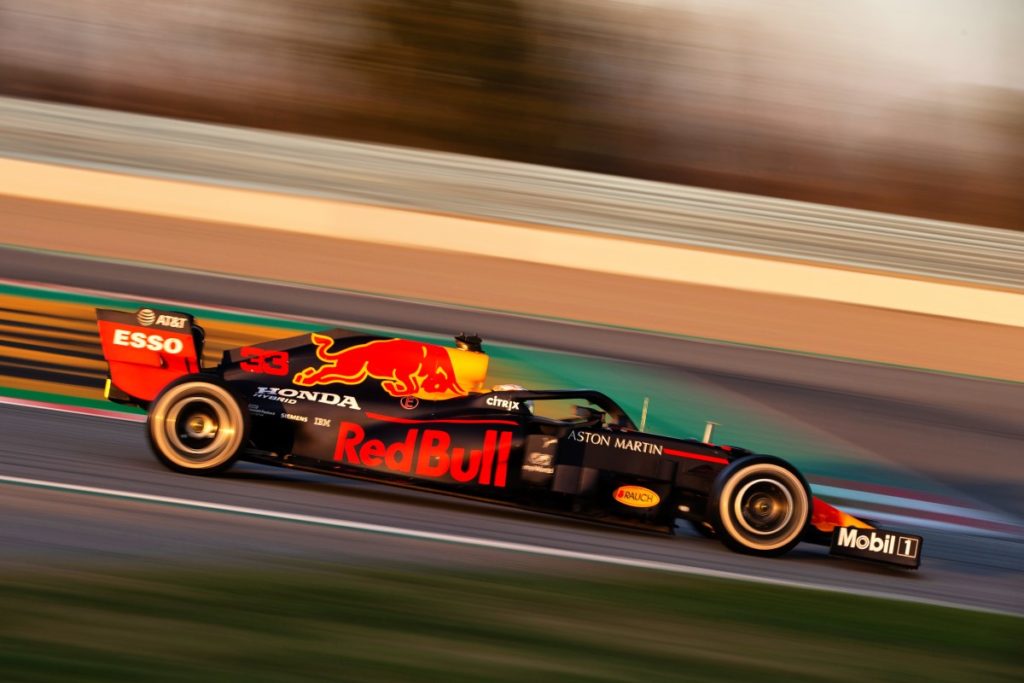 Red Bull has pace – and could challenge Mercedes
This time last year Red Bull was firmly third-best as it became accustomed to life with Honda while adapting to the revised front wing regulations. After the first test of 2020 there is a buoyancy around the Red Bull-Honda camp. The only setback was an engine change but this was a precaution and no issue was found. Max Verstappen and Alexander Albon shied away from using the softest tyres and both were upbeat over the feeling of the RB16. There is a chirpiness that was not present in 2019. Verstappen described the car as "more connected" than its predecessor, which was hardly a surprise, given it is an evolution of the RB15, albeit with a front suspension that has caught the eye and a slimmer nose section. Albon – entering his first full campaign with the senior team – labelled the car a "big step forward" and reckoned that Red Bull had ironed out some of the weaknesses of last year's package, creating a car that is "nicer to drive", providing much-needed stability. "We've had a good winter," said boss Christian Horner. "Last year was our first year with Honda and I think that relationship has just evolved and tightened throughout last year and the winter. I think the whole team has done a great job in turning out this car, we've come here with more miles on the dyno than previously. The feedback from the drivers so far is very encouraging." This is surely Red Bull's best chance yet of regularly challenging Mercedes for race victories.
McLaren sees no reason why fourth will slip
The midfield battle is expected to be a close-run affair but on the evidence of the first week of testing McLaren feels it is firmly in the ballpark to reach its targets. It is in the invidious position of trying to maintain 2019's positive momentum, swat aside its rejuvenated midfield opponents, all while making sure its does not slip from its concurrent 2021 programme. The MCL35 did not capture the attention and nor was it lamentably worrying – and that is a position that will suit the team just fine. "If you look at the number of laps and the reliability that we have shown so far, it is by far the best start in many, many years for McLaren going into a winter test," said team boss Andreas Seidl. "It is simply a great reward and a sign for the team that all the hard work that we have put in in the last month in order to make this step is paying off." McLaren is continuously bringing new parts to the MCL35, including a new front wing on the final day of running, and the positive windtunnel to circuit correlation is another step in the right direction for the team.
The Pink Arrows caught the attention
Prior to Mercedes' DAS sparking the test into life much of the focus was on Racing Point's RP20 and it didn't take long for comparisons to be drawn to last year's Mercedes W10. There were some stark similarities, as well as a few raised eyebrows at AlphaTauri and Haas given previous criticisms heaped upon their teams for their respective relationships with Red Bull and Ferrari. Racing Point decided last July to adopt a brand-new approach with its RP20, freed from the previous financial limitations that stymied creativity and stifled development. The car was quick out of the box and remained eye-catching throughout the test, with Sergio Perez pleased while even the usually monosyllabic Lance Stroll managed more than a grunt when talking to the media. Technical boss Andrew Green stressed that there was no data transfer on the aerodynamic or chassis side and explained the thinking behind the RP20's design. "It made sense to do what we've done, which is to take the underlying architecture of what we have from MGP for many years – we have been using their gearbox since 2014," he said, before explaining that it ruled out a Red Bull-style high-rake approach. "We decided to take a risk and that risk was effectively to tear up what we've done in the past few years and start again from scratch and from what we could see and what MGP had been doing. We have the same view everyone else has got, and there is nothing special in the information we have got – all we have got is what we see and that's what we've started from and developed from and it's a completely clean sheet of paper and it's a big risk."
Williams' Q2 and respectability target is feasible
Getting a car to pre-season testing on time is not an achievement in itself. However, Williams was first out on track on Wednesday, after its 2019 horror show, and that was a statement of pride for a team that has fallen out of contention. Encouragingly for the team the FW43 was immediately far more stable, sturdier and faster than its unloved predecessor, with both George Russell and Nicholas Latifi positive – if not leaping up and down – over the work undertaken through the last 12 months. Williams had a top-to-toe examination of the entire organisation after last year's test disaster and the work is beginning to pay dividends, with the relief in the team palpable. Williams has targeted a return to Q2 and a return to respectability and on the evidence of the first week of testing that modest goal is firmly within its reach. "We want to go racing," said Claire Williams. "We're here in Formula 1 to go racing, that's why Williams exists, we're not here to do anything else, we're here because we love racing, and last year we just weren't racing."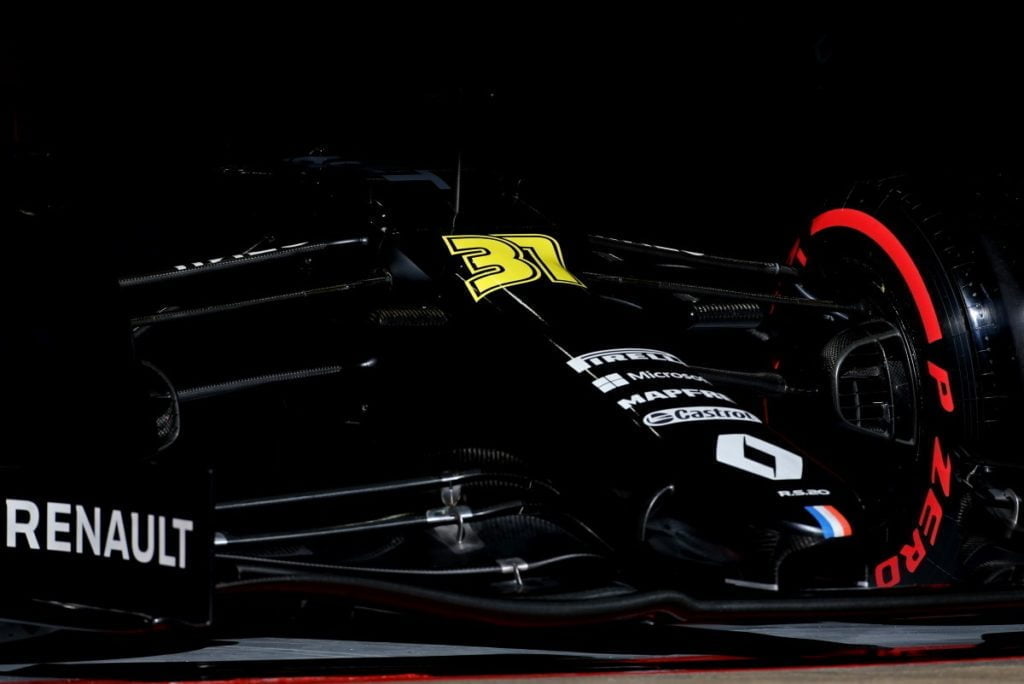 Ocon has slipped back into F1 life with ease
Esteban Ocon often appeared an anguished man in 2019 as he spent a year out of a race seat, spending long and tiring hours in Mercedes' simulator, while watching his contemporaries achieve on-track success. So far in 2020 it as if Ocon – who feared he would be forgotten after losing his Force India seat – has never been away. Having the two-day post-season test in Abu Dhabi last December allowed Ocon and Renault to hit the ground running this week, while he was keen to highlight the importance of learning from and collaborating with team-mate Daniel Ricciardo. Ocon stressed that Renault has a "clear picture" of where it wants to go and that he and Ricciardo have provided similar feedback regarding the interim-liveried R.S.20, whose most striking attribute is a significantly slimmer nose section compared to its predecessor. "It certainly did have initial good impressions," said Ricciardo, who ran with a purple helmet in tribute to the late Kobe Bryant. "So I thinking down to that level of grip and downforce was a bit easier than what I remember for sure, of being able to use that grip. I guess now we start looking for that extra half a second, that is when we will see what the car is capable of. But initial thoughts were that they were improvements." Meanwhile, the man Ocon replaced at Renault wasn't exactly missing F1 life as Nico Hulkenberg soaked up the Carnival in Rio de Janeiro.
These cars could be the fastest ever
Formula 1's 2019 cars were some of the fastest in history as track records were broken and already 2020 promises spectacular sights. The evolutionary nature of the regulations, and the aerodynamic gains teams have found, means 2020's cars are already faster at this stage of testing compared to 12 months ago. "The amount of grip I feel now I never felt before," said Renault's Esteban Ocon. "It is definitely exciting because we are going to go faster and faster. We're probably going to break all the records this year of lap times." Red Bull's Max Verstappen was nonetheless a little more circumspect on the situation. "I mean it's great to do lap records," he said. "But to be honest, I prefer good racing. Because the cars are amazing to drive, they are super fast, and for sure we will break some lap records. But when you are following a car it's just impossible… there is such a big downforce loss and of course every year the cars are getting faster so it's just getting worse and worse and so definitely for next year I think the cars are not going to be enjoyable and easy to drive, but I just hope the racing will be better."
China's rescheduling is unlikely, still concerns over Vietnam
In a week with little off-track news one of the main talking points was the Covid-19 coronavirus, the ongoing outbreak, and its impact in Formula 1. There was more hand gel being used (though given the state of facilities this should have been occurring anyway) while McLaren Group's global policy restricting access to recent visitors to China extended to its Brand Centre in the paddock. It meant China's sole permanent journalist had to ask for audio files and rely on colleagues for a regular supply of Huski Chocolate. The Chinese Grand Prix was scheduled for April 19 but that event will not be happening. The most likely date highlighted is now November 22, which would leave China as the penultimate event, between Brazil and Abu Dhabi. The tentative proposals are for a condensed two-day weekend to take place, which would relieve some of the pressure on the paddock, and also act as an experiment of sorts for 2021. However the logistical challenges of transporting both equipment and people across the involved places in the required timeframe remains a large stumbling block. That leaves 21 events, but the calendar could still yet reduce to 20 rounds. Event organisers are pressing ahead in Vietnam but some have begun to get twitchy over the uncertainty in the country. German broadcaster RTL will cover the event remotely while other media organisations are understood to be on the brink of heavily scaling back the number of staff being sent – or not going at all. Elsewhere some in the paddock have re-arranged Australia flights that involved transiting in Hong Kong and are holding off on booking Vietnam travel plans until as late as possible.