Sergio Perez has expressed his willingness to potentially leave Red Bull after 2023 if he believes he cannot contribute more to the team's endeavours. This comes as the Mexican driver has been significantly slower than Max Verstappen throughout the current season although the indications are that the team would be keen for him to stay.
During the Italian Grand Prix, Perez showcased a commendable performance, starting from the fifth position on the grid and successfully overtaking both George Russell and the Ferrari duo of Charles Leclerc and Carlos Sainz. He ultimately finished in second place, closely trailing his teammate.
Regrettably, Perez has had limited moments of success since his most recent victory at the fourth race of the season in Azerbaijan. At that point, he was only one point behind Verstappen in the standings. However, after 15 races, the gap has widened to an almost insurmountable 151 points.
Living in the shadows of Verstappen
Red Bull's acquisition of Perez marked their most recent effort to secure a driver who could effectively support their unquestioned leader, Max Verstappen. The goal was to find someone capable of complementing Verstappen's achievements by consistently earning enough podium finishes to contribute to the team's pursuit of the constructors' championship.
Perez has proven himself during his time with Red Bull, amassing five out of his six career victories in less than three years.
Although Perez's recent triumphs at the beginning of 2023 rekindled his aspiration to contend for the championship alongside Verstappen, the Dutchman swiftly retaliated with an impressive streak of ten consecutive wins, effectively diminishing Perez's momentum.
Perez: Admitting defeat
While Perez's contract with Red Bull is set to conclude at the end of 2023, a recent interview suggests that he might not renew his agreement with the team under any circumstances. This decision could stem from his realisation that Red Bull's car design will continue prioritising Verstappen's preferences.
"With the season we'd had, it's important in the next few races that I also want to be in an environment where I feel like I can contribute," Perez told ESPN. "And if that place in 2024 isn't here, we have to look for other alternatives."
Perez's acknowledgement of the importance of a conducive environment for his contributions and his hint at exploring alternatives if Red Bull fails to offer such an environment indicates that he may be approaching a crossroads in his career.
However, these sentiments do not diminish Perez's firm commitment to remaining with Red Bull for the upcoming year and striving to secure victories on the racetrack. Nonetheless, it appears that Perez has relinquished his belief in his ability to contend for the championship alongside Verstappen, and perhaps he perceives an inevitable outcome.
It must be incredibly difficult to deal with the lingering thought of 'what if'? What if the Red Bull team supported Perez as they do Verstappen? Would the Drivers' standings between first and second boast such a differential in points? Even the Formula 1 odds don't deny Perez's chance of catching his teammate.
Currently, the best UK bookmakers that offer F1 odds show a price of 5/1 and higher for Perez to make an unfathomable comeback. But for favourites to win the Drivers' Championship without Verstappen, Perez boasts an 88.9% implied probability, and we can only imagine the frustrations of the Mexican driver as he unquestionably plays second-best to his championship-winning teammate.
Sergio Perez at Ferrari?
In July of 2023, Carlos Sainz departed from Budapest amidst claims that Ferrari once again showed favouritism towards his teammate, Charles Leclerc, regarding race strategy. This sentiment immediately sparked speculation that Sainz's tenure as a Ferrari driver might be shorter than anticipated.
Sainz, who is 28 years old, had been rumoured to join the Sauber team, which is gradually being acquired by Audi and is expected to be fully taken over by 2026. Meanwhile, there are suggestions that Leclerc is becoming visibly impatient with Ferrari, particularly evident in the tone of his recent radio messages.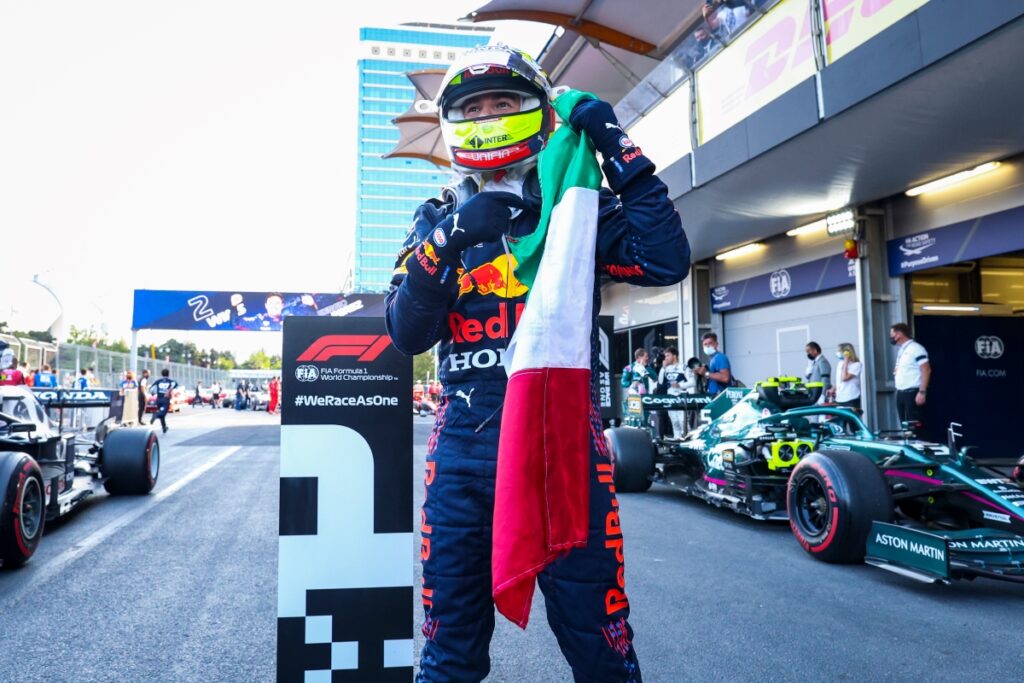 Sainz recently ended Max Verstappen's 10-race winning streak in Singapore, and the atmosphere may have shifted. Regardless, with two potentially dissatisfied drivers, it certainly raises the possibility of Perez driving for the Scuderia…
Sergio Perez at McLaren?
Lewis Hamilton's surprising departure from McLaren to Mercedes in 2013 left the McLaren team needing a replacement, and they chose 23-year-old Perez for the job. But things didn't go smoothly, especially concerning Perez's relationship with Jenson Button. Button criticised some of Perez's moves, suggesting they were only suitable for karting tracks.
Since then, things have changed. Perez has established himself as an established Formula 1 driver, raising the possibility of a return to McLaren. The timing could be right, considering that Lando Norris' contract expires at the end of 2025, and several teams have shown interest in signing him.
It's also possible that Perez could take a year off before making the move to McLaren. Of course, he would hope for a better outcome than the last time he replaced one of McLaren's top stars. From McLaren's perspective, replacing a driver like Norris won't be easy. However, Perez could be a capable choice to help them through the transition period. As he has demonstrated at Red Bull, Perez is willing to play a supportive role if Oscar Piastri becomes the lead driver which his recent contract extension to 2026 may imply.
Final thoughts…
To leave Red Bull or not, either way, we can't do much other than speculate. In Perez's recent interview with ESPN, which we touched on earlier, he concluded the discussion by reminding us about the here and now.
"Right now, my main focus is to be here, to win more races, to keep winning championships with Red Bull," he added; but also, don't be surprised if he exits his position as Red Bull's second-best in the near future, "I have a contract until next year, and at some point we'll sit down and talk…"