The 2023 Formula 1 season has reached its annual summer break, providing the opportunity to reflect on a season that has been dominated by the familiar sight of Red Bull on top.
Using the average score from our ratings produced following every round, here are the Motorsport Week top 10 F1 driver rankings at the midway point of the season.
1)

Max Verstappen – 9.33
Highest Score – 10 (Monaco, Spanish and Belgian GPs)
Lowest Score – 7.5 (Azerbaijan GP)
Unsurprisingly, Verstappen occupies the top spot on our list, having romped to 10 wins in the opening 12 races. The Dutchman has carried on from where he left off at the end of last year, immediately setting his stool out for the campaign by dominating proceedings at the opening round in Bahrain.
Subsequently, the two-time World Champion has opened up a commanding 125-point lead in the standings, peaking with three perfect scores in Monaco, Spain and Belgium. The only occasion the Red Bull ace has dipped below an 8.5 rating came in Azerbaijan, where a scruffy Sprint Saturday and defeat to his team-mate in Sunday's race saw him drop to a season-low of 7.5.
2)

Fernando Alonso – 8.21
Highest Score – 9.5 (Bahrain and Monaco GPs)
Lowest Score – 6.5 (Spanish GP)
Any threat of Alonso's surprise switch to Aston Martin presenting another rueful career move that he would come to regret was instantly dispelled when the Spaniard recorded a third-place finish on his debut.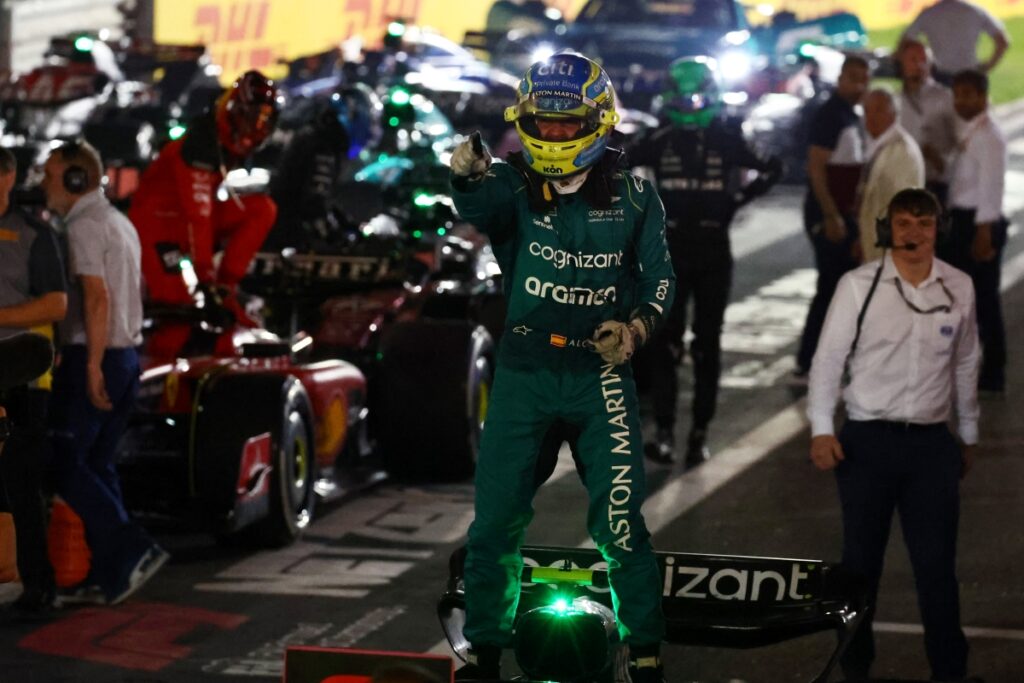 That began a mesmerising run of six podium finishes across the opening eight races, leaving Alonso only behind the dominant Red Bull pairing in the Drivers' Championship.
Despite Aston Martin's competitiveness trailing off as the development race behind Red Bull has intensified, Alonso has continued to convincingly have the measure of team-mate Lance Stroll.
3)

Lewis Hamilton – 7.92
Highest Score – 9 (Australian, Spanish and Canadian GPs)
Lowest Score – 7 (Bahrain, Saudi Arabian, Miami and British GPs)
It speaks volumes of Hamilton's supreme consistency in 2023 that the lowest score he has registered throughout the opening 13 races has been a 7 on four occasions.
Since Mercedes abandoned its highly contentious zero sidepod concept and introduced a revised car in Monaco, Hamilton has thrived and dominated the intra-team rivalry within the Mercedes camp.
Following the raft of changes to the W14 Hamilton has scored four podium finishes and a pole position in Hungary, resulting in a score over an 8.5 rating in five of the past seven rounds.
4)

Lando Norris – 7.50
Highest Score – 9.5 (Australian and British GPs)
Lowest Score – 4.5 (Saudi Arabian GP)
Norris cut somewhat a disgruntled figure amid McLaren's sluggish start with an underdeveloped version of its MCL60 car.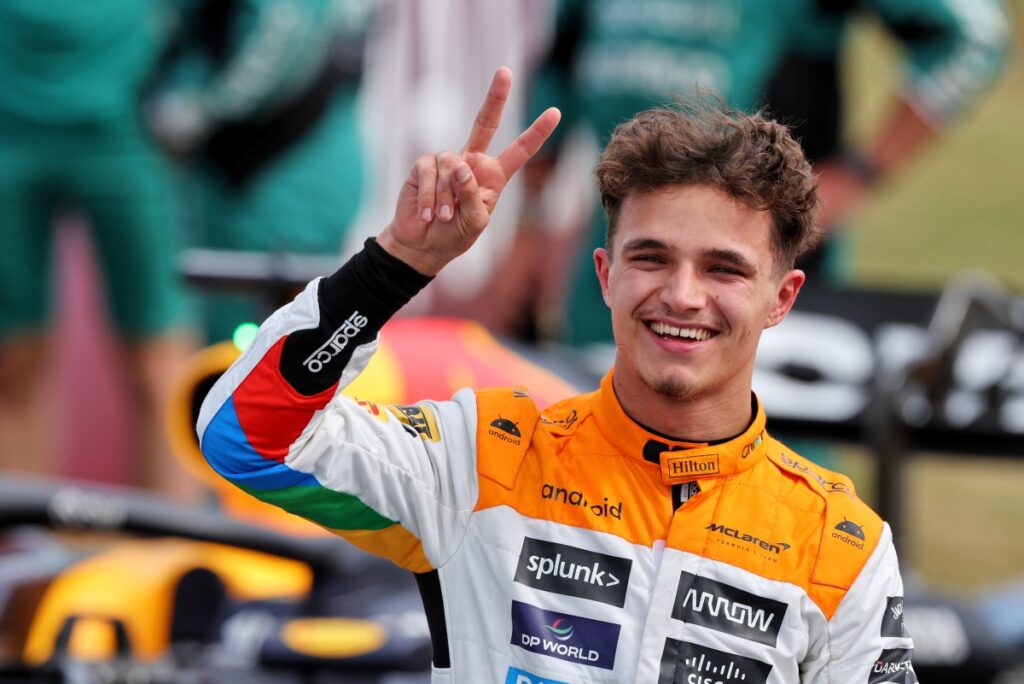 However, the Woking side's arduous opening to the season has been cast aside by the resurgence it has made with the hugely competitive nature of its upgraded car. McLaren has become a certified front-running contender, enabling Norris to collect successive podium finishes at Silverstone and the Hungaroring.
Although his average score has soared since the new package was launched, the Brit continued to demonstrate precisely why he's been noted as one of the best drivers on the grid for several years by delivering an exceptional weekend performance in Australia with the old-spec package.
5)

George Russell – 7.25
Highest Score – 9 (Australian and Miami GPs)
Lowest Score – 5.5 (Canadian GP)
Russell has described his 2023 season as a tale of "two halves" and that's the most accurate way to summarise how his second campaign with Mercedes has progressed.
Following his defeat of Hamilton last year, Russell out-qualified his illustrious team-mate at the first three events, and he was unfortunate to bow out in Australia having led the early stages of that race.
However, self-diagnosed set-up issues have since plagued his overall competitiveness, with the Brit failing to make Q3 in four of the last nine qualifying sessions.
Whilst he was able to rebound from a disastrous qualifying in Barcelona to scoop his only podium of the year from 12th on the grid, there have been occasions like in Montreal where Russell threw away the opportunity for a good result with an avoidable crash into the wall.
6)

Charles Leclerc – 7.08
Highest Score – 9.5 (Azerbaijan GP)
Lowest Score – 4 (Spanish GP)
Leclerc has been a victim of Ferrari's inconsistent 2023 campaign. His highs have been spectacular, peaking with a double pole position in Azerbaijan that led to a third-place finish, and an accomplished drive to the podium in Spa-Francorchamps.
However, the lows have been scraping the bottom of the barrel, with the Monegasque racer crashing in successive days during the Miami Grand Prix weekend ahead of a difficult run to seventh place in the place.
Issues in mixed conditions have also contributed to lacklustre displays on Saturdays in Spain, Canada and Austria. Nevertheless, Leclerc has continued to demonstrate he is the Ferrari driver that gets it right when the car is competitive.
7)

Alex Albon – 6.96
Highest Score – 9.5 (Canadian GP)
Lowest Score – 4.5 (

Australian GP

)
Albon's impressive resurgence at Williams has continued into 2023, making his nightmare final season at Red Bull now very much a distant memory.
The Thai driver has established himself as a valuable team leader for a rebuilding Williams side, beating rookie team-mate Logan Sargeant in every competitive session and scoring all of the team's points.
The pick of his drives came in Montreal, where Albon resolutely resisted the advances of a gaggle of quicker cars to clinch a vital seventh spot for Williams, elevating it to seventh in the standings.
8)

Yuki Tsunoda – 6.92
Highest Score – 8.5 (Belgian GP)
Lowest Score – 5 (Canadian, Austrian and Hungarian GPs)
When Pierre Gasly was poached by Alpine, it was widely expected that 28-year-old Nyck de Vries would take on the mantle of AlphaTauri team leader in his absence.
However, Tsunoda had other ideas. The Japanese driver emphatically thrashed de Vries to the point the Dutchman was handed the axe by Red Bull advisor Helmut Marko.
Tsunoda has eradicated the silly errors he made in his first two years, smoothed out the rough edges and risen to the challenge of providing a spark in an otherwise miserable campaign for AlphaTauri.
After a run of uneventful races, signing off for the shutdown with his fourth 10th-place finish of the year in Belgium provided a solid end to an encouraging 2023 so far.
9)

Esteban Ocon – 6.75
Highest Score – 10 (

Monaco GP

)
Lowest Score – 5 (Bahrain and British GPs)
Amid a problematic year for Alpine that has seen a multitude of changes already occur within its ranks, Ocon has provided the high point of the Enstone squad's year.
Around the prestigious streets of Monte Carlo, the ex-Mercedes junior delivered a scintillating final lap in qualifying to clinch third on the grid, opening up the opportunity for him to score a morale-boosting podium that he took in changing conditions.
He has lacked consistency but that is unequivocally a result of being placed inside an unstable environment at Alpine that has spiralled both on the track and away from it.
10)

Oscar Piastri – 6.67
Highest Score – 9.5 (British GP)
Lowest Score – 5 (Miami and Austrian GPs)
He may have only beaten his team-mate once all year, but Piastri more than merits occupying the final position inside our top 10 ahead of the second half of the season.
It's easy to forget the Australian was sidelined for 15 months after winning the Formula 2 title, yet he has taken to F1 seamlessly, outperforming Norris as early as the second round of the year in Saudi.
Since receiving the upgrades Piastri has matched Norris for pace at Silverstone – with only an ill-timed Safety Car denying him a maiden podium – before he was one of the stars of the weekend at Spa to deliver second place in the Sprint Race.