There has been much intrigue surrounding Audi's impending takeover of the Sauber-owned team – but should Alfa Romeo's 2023 slump serve as a warning of the challenge it faces in reversing a flailing Formula 1 side's fortunes?
Alfa Romeo's uncompetitive display throughout the Belgian Grand Prix weekend ensured it heads into the annual summer shutdown without a single points finish in the previous four rounds – the worst run of any team – to mark a continuation of its struggles from the backend of last year.
After multiple seasons spent trailing towards the rear of the F1 field, the overhaul to the technical regulations last season enabled Alfa Romeo to enjoy a much-needed renaissance. With the arrival of Valtteri Bottas from the then-defending World Champions Mercedes leading the team's charge, the Hinwil-based outfit accumulated a total of 55 points inside the opening nine rounds of the year to hold sixth overall.
However, Alfa Romeo has only accrued nine points following the first 12 races of 2023 – a substantial decrease of 46 from this time last year. To further compound its woes, the Italian entity has only racked up a pitiful 13 points across the past 24 grands prix.
But where has Alfa Romeo's early promise in this rules cycle dissipated to already?
While the Alfa Romeo C42 was clearly a tidy package with a solid baseline to build from, much of its early success came down to the car being at the optimal weight from the outset. As other teams progressively caught up and whittled away at cutting down their own overweight machines, Alfa Romeo's competitive advantage at the front of the midfield was reduced at a rapid rate.
As such, Alfa Romeo went six rounds without scoring a single point from Canada in June until Monza in September, when Zhou Guanyu put an end to the protracted drought with a battling drive to 10th.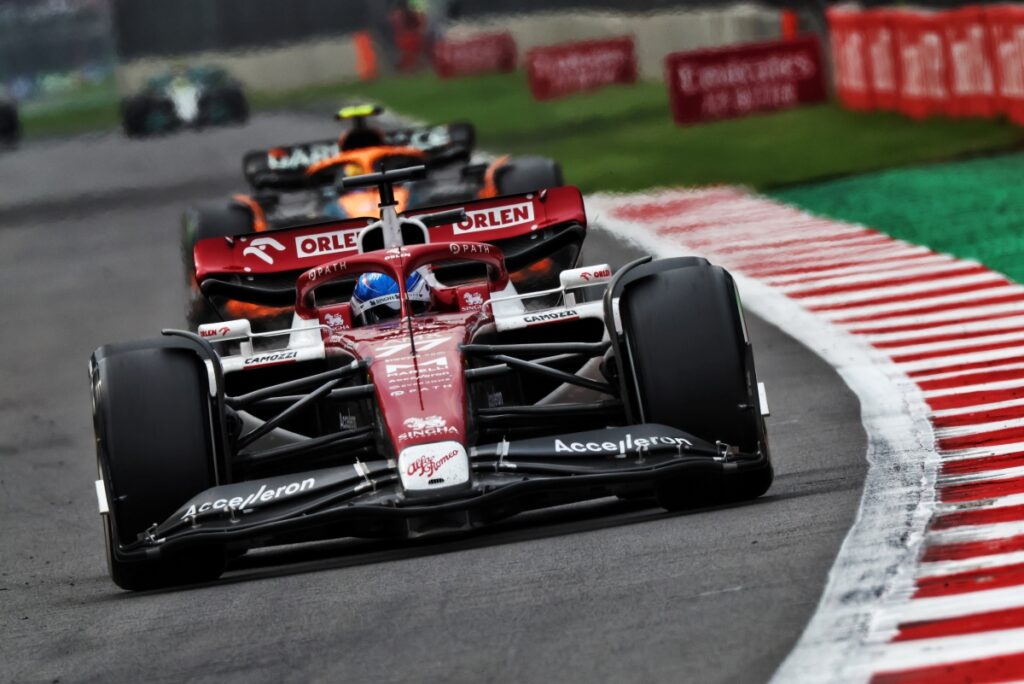 However, that would fail to inspire an upturn in form, with only three further points following courtesy of Bottas recording successive top-10 finishes in Mexico and Brazil. Even accounting for the opportunity of a reset over the winter, Alfa Romeo's plight has continued into 2023, despite sweeping optimism over the winter that it had made a considerable step forward with its latest car.
The team's C43 was described by its now-ousted technical director Jan Monchaux as a progressive step forward, with the predominant focus on improving the rear-end instability issues of last year. Regardless of whether its development targets were hit, the stopwatch doesn't lie, and Alfa Romeo's technical department ultimately failed to make the same strides as many of its rivals did over the winter, subsequently condemning it to its current occupation of ninth in the teams' standings.
Alfa Romeo currently only resides above AlphaTauri, who have also struggled hugely to get a grasp on these technical rules over the past 18 months. Meanwhile, Williams appears to have pulled away from those respective sides since introducing a substantial upgrade package that has enabled it to maximise points-scoring opportunities when they've arrived.
Speaking of updates, Alfa Romeo introduced its own raft of new parts at the British Grand Prix, with Bottas hopeful that the alterations would provide respite from its wretched run of mid-season form. Although the upgrades proved successful in eliminating part of the C43's high-speed performance disadvantage, Alfa Romeo's hopes were hindered by another glaring weakness being exposed.
Unlike fellow Ferrari-powered customer Haas, Alfa Romeo's attempts to score points have consistently been rebuffed by encountering below-par qualifying displays. The top brass involved within Alfa Romeo's F1 operation has consistently stressed the need to optimise grid position, with Bottas suspecting points were possible at Silverstone if he'd qualified further up.
One round later, however, and both Bottas and Zhou progressed through to Q3 for the first time in 2023. The twisting, slower-speed nature of the Hungaroring played more favourably into the strengths of Alfa Romeo's package and a sterling effort from both drivers delivered starting berths of fifth and seventh for Sunday's race in Budapest.
But within the first lap, Alfa Romeo's hopes of achieving a vital haul of points were dashed. Zhou, enthused after qualifying a career-best fifth, suffered a clutch problem before a braking misjudgement at Turn 1 caused a collision that compromised Daniel Ricciardo's race and took both Alpines out.
Unsurprisingly, Zhou was swiftly hit with a five-second time penalty that dropped him out of contention, with Bottas unable to recover from a sluggish start to the race.
During what has transpired to be an arduous and morale-sapping year for the entire Alfa Romeo team, spurning a golden opportunity to collect points on the sole weekend where its car has displayed genuine promise would have been a gut-wrenching pill to swallow. Possibly one that could spell an end to its chances of propelling itself up the standings before the season draws to a close.
The underlying performance of the car underneath Bottas and Zhou has been deemed the attributing factor for their unspectacular run of results, but neither driver has covered themselves in glory by stringing together a consistent run of form.
The farcical unfolding of their respective races in Hungary should warrant question marks over whether both drivers have regularly extracted everything from the machinery at their disposal, even accounting for the evident performance shortcomings.
With McLaren's introduction of a revised car elevating it into podium-scoring contention, there is now an order of five hugely competitive teams that occupy the points-scoring places. With only the top 10 being eligible for points in a grand prix, it's even more pivotal that stragglers like Alfa Romeo deliver a faultless weekend in every aspect when circumstances align for a result.
But while Williams with Alex Albon at the wheel continues to illustrate how that is perfected under the stewardship of ex-Mercedes Strategy Director James Vowles, Alfa Romeo is one team quickly being left behind by the rest's unrelenting progress.
Although Zhou has certainly done solidly enough to remove the 'pay driver' tag that courted his every move upon his arrival into F1, the Chinese driver doesn't hold a place alongside the other exciting young drivers on the grid that have made the step-up recently like McLaren's Oscar Piastri.
Meanwhile, Bottas, a 10-time race winner during his stint with Mercedes, was expected to assert a more commanding dominance within the intra-team dynamic, but the Finn appears a shadow of the exciting talent that burst onto the scene with Williams and subsequently earned the right to be Nico Rosberg's replacement at Mercedes.
Bottas has publicly revealed he wants to stay in time for Audi's arrival – however, he will undoubtedly need to raise his game beyond his current level to ensure he remains part of the company's long-term thinking.
It's hard to imagine that Audi won't be targeting a top-line driver and such a household name in the automotive industry will demand a queue of drivers wanting to spearhead its F1 project. Among them, Ferrari's Carlos Sainz has been the most notable individual linked due to his ties with Andreas Seidl from their time at McLaren.
The Sauber-ran outfit has shown it is not afraid to ring the changes before the Audi moniker is plastered above the garage doors. Seidl was brought in exclusively over the winter as the Sauber Group's CEO to oversee the side's transition into an official works Audi entry under three years from now.
Monchaux has already been handed his marching orders and replaced by James Key, who himself was axed from his Technical Director role at McLaren earlier this year.
Understandably, Audi's maiden venture into F1 has generated lots of publicity. The German giants have already proceeded to set out the stool for what it aims to achieve upon its arrival into the sport: to be competitive within three seasons.
While simply being competitive is a vague use of terminology and it's very on-brand for an F1 entry to set out a timeline that doesn't bare much substance – take Alpine's ever-evolving 100-race barometer as a prime example – Audi's declaration should be taken somewhat seriously.
The German manufacturer has always succeeded in whatever series it has set its sights on. Failure is not an option for Audi, and it will persist with its F1 programme until it develops into an established front-runner capable of challenging the might of Ferrari, Mercedes and Red Bull on a regular basis.
However, as Bottas expressed recently, the Sauber-ran side can't simply afford to bide its time until Audi invests the resources required to overturn its latest demise. For the time being, Alfa Romeo's immediate focus should be on arresting the slide that has taken it from a regular points-scoring team in this rules set to one that is reluctantly propping up at the rear of the pack within a year.