George Russell led Formula 1's Sakhir Grand Prix for 59 laps and was on course for a sensational victory until a bungled pit stop and a puncture relegated him out of contention.
Russell topped Friday's practice sessions, struggled with set-up changes in Saturday's final practice, then thrust himself into contention by qualifying only 0.026s behind Valtteri Bottas.
It was a display that enthralled Mercedes team boss Toto Wolff and validated the faith the company has had in Russell's abilities since it took him under its wing at the end of 2016, guiding him as Red Bull has with Max Verstappen and Ferrari with Charles Leclerc.
"We didn't want to set expectations high and he over-delivered, and over-delivered, and over-delivered," said Wolff.
"He over-delivered on Friday, he over-delivered in qualifying in [being] just a few hundredths away from Valtteri and he over-delivered [in the race].
"His racing was unbelievable."
Key to Russell's race was the getaway from the front-row of the grid. Starts had not been a strength of either his or Williams for much of the last two years but on Sunday he nailed the first phase in order to grab the initiative from Bottas, despite being anxious about having to use some of Lewis Hamilton's settings.
"The start was a phase of the race I was nervous about all weekend to be honest," explained Russell.
"I was using Lewis' clutch paddles that were moulded to his hands and fingers and didn't fit me properly.
"I must have done hundreds of practice starts in our little rig we have set up in my room in the car, just practice, practice, practice.
"Obviously I was super pleased to get off line, get down the inside of Valtteri."
Russell scampered clear on the opening lap and then once more when the race restarted following the Safety Car phase, building and maintaining a lead over Bottas.
Mercedes had expected Russell to be a contender on Saturday but his pace on Sunday came as a surprise, particularly in light of the Briton's tall frame proving a disadvantage in the narrow cockpits of the W11, a car designed for the much shorter Hamilton and Bottas. Earlier in the weekend Mercedes, and Russell, was wary that fatigue was likely to be a factor across the race.
"We've not had such a tall driver for a very long time," said Mercedes' trackside engineering director Andrew Shovlin.
"Every year you think can we squeeze something here and there, work on the packaging, put a bit more performance on the thing, it becomes less and less comfortable for a guy who is quite a bit over 6ft tall.
"It's not just physically things being in the way, but also it's painful, we can't quite get enough space for him so he's being pinched and the seat's not quite perfect. It's not just that he's cramped but it actually hurts to drive. He was determined to fit and determined to be able to drive it."
The race was a voyage into the unknown but as Russell controlled proceedings it was clear that the preparation undertaken by both driver and team was yielding dividends.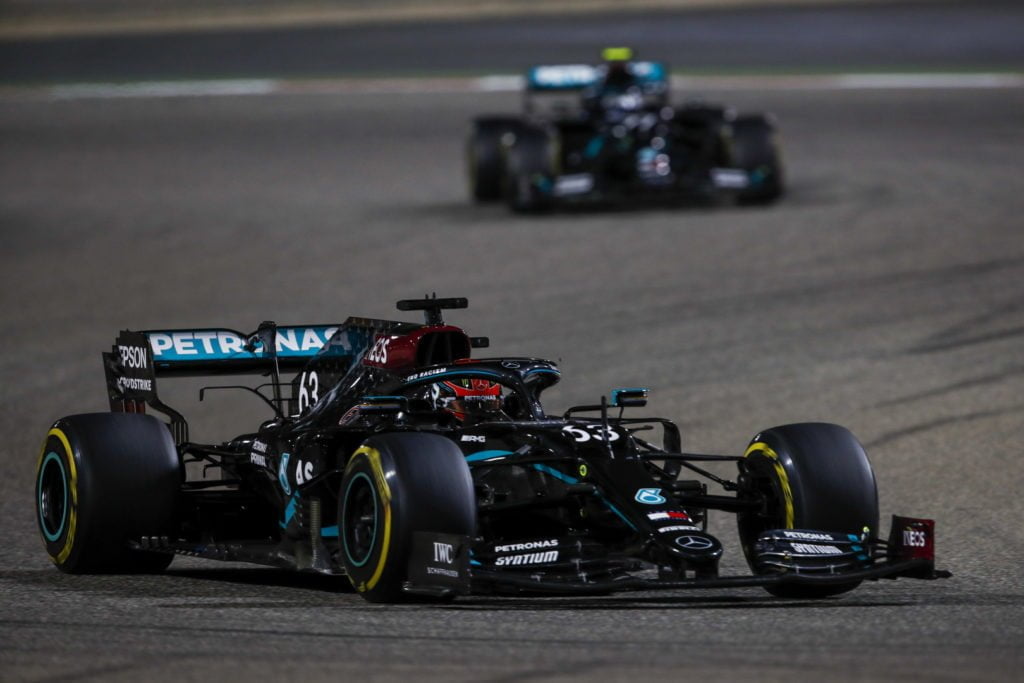 "We were just trying to feed the information to him in a way which wasn't going to overwhelm him," explained Shovlin.
"We had a structured approach, so not telling him things on Thursday night he didn't need to know until Sunday morning.
"We knew to expect good things from him – we're a team that likes a challenge, and having to work with someone new at short notice we viewed it as another challenge in our season. Obviously that job was made easier by the fact George is clearly very talented and did a great job."
Russell added: "I think I do need to give a huge amount of credit to 'Bono' and the five guys and girl who we work with closely, his little team, who have persevered and worked so hard to try and make things as easy as possible for me, try to teach me everything I need to learn. It's been a real collective effort between us."
Shovlin reckoned jumping from the Williams FW43 to Mercedes' W11 had its advantages but praised the rapid manner in which Russell adapted to new surroundings.
"It is difficult for drivers to jump from one team to another and one car to another," he said.
"The W11 is a nice-handling car, you can brake later, be more aggressive, and the car will look after you and not catch you out as much as others. It takes more than one race weekend to really build up a full appreciation of what the car can do.
"One thing he was chipping away at was actually just how late you can brake for Turn 1 and how much speed you can take into Turn 7 and 8. He has done that methodically, and importantly, without going over the limit, as if you do that there can be significant consequences. It is not an easy thing to do."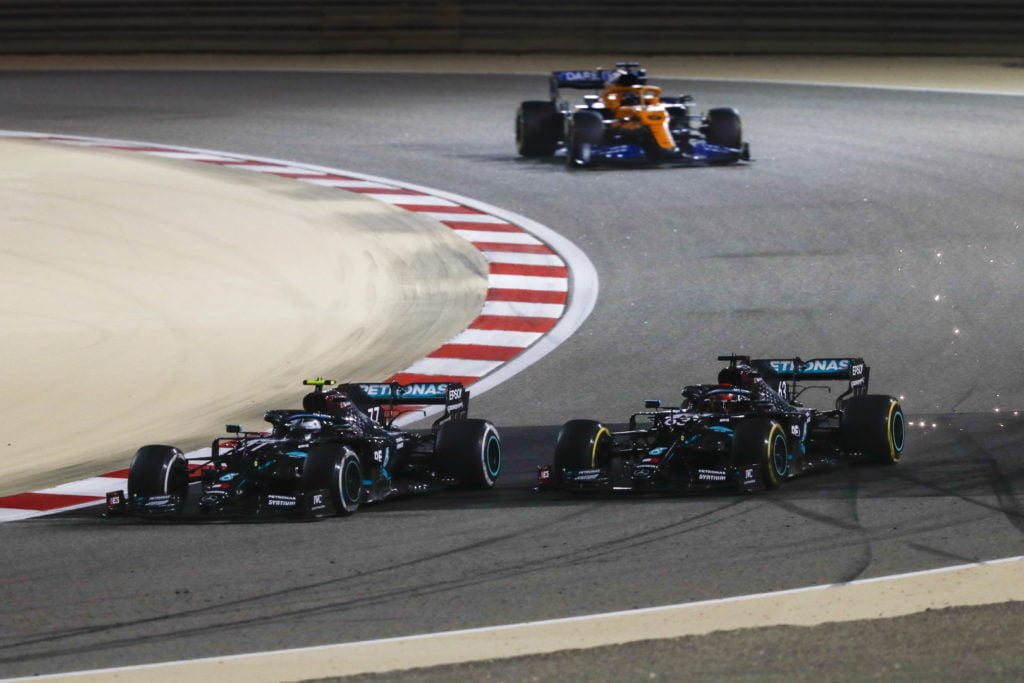 Once Russell overcame the immediate disappointment of the pit stop drama and puncture his sanguine appraisal of his weekend was no different to his previous assessments of grands prix with Williams – displaying maturity with confidence while also identifying areas to improve.
"I obviously believe in myself, but I was being realistic," he said. "I was not expecting to be on Valtteri's pace. I didn't want to set myself expectations, but I said if I'm within two-tenths, I'll be really pleased with that.
"I know how much of a rhythm I've had with Williams and how I've just got stronger, stronger, stronger from working with my engineers, understanding the car, my engineers understanding how to set my car up for me.
"The progress I've made from Australia 2019 has been leaps and bounds so I was realistic.
"I wasn't on pole but given the time frame, given the car wasn't set up for me, given the fact I wasn't comfortable in the car, I was satisfied with it because I was closer than I expected.
"I know that with more and more races under my belt in this car, I'll just get stronger. So to come in at such a good level, I'm going to wake up tomorrow, obviously still be a bit disappointed, but I'll try to have my head held high."
It raised the inevitable question… has Russell demonstrated that Mercedes jumped too soon in keeping hold of Bottas for 2021?
"From a personal perspective, this has been a great weekend of validation, saying actually, we probably have been doing a very good job in the Williams this year," said Russell. "Secondly I guess from Toto's perspective, hopefully I have given him a headache, not just for 2022, maybe sooner."
"George has always been a Mercedes driver and he's a Williams driver now, and they can be proud of what he's done today," emphasised Wolff.
"They will know that his lap times in the Williams are probably the benchmark. Now we will need to see what the future holds. To be honest, I haven't made up my mind what that means for us.
"Our driver line-up is Valtteri and Lewis, so I don't see this [Russell and Hamilton] as a realistic situation at that moment of time.
"We learned [this weekend] that George Russell is someone to count on the future. He has all the potential and all the ingredients that a future star needs. In that respect, I am sad for the result that he could have had in his first race for Mercedes but on the other side, I am happy about his performances."