Romain Grosjean and Kevin Magnussen have scored all of Haas' points in the Formula 1 team's history but will leave at the end of 2020. MotorsportWeek.com reflects on the pair's high points with the championship's newest outfit.
Shock sixth on debut
Haas' pre-season form in 2016 reassured doubters that it was not going to be hopelessly off the pace along the lines of Formula 1's three new-for-2010 teams. It qualified ahead of Manor on its debut in Australia and was within reach of the midfield. In the race Grosjean made steady progress and was running ninth when Fernando Alonso catapulted his McLaren over the rear of the other Haas, piloted by Esteban Gutierrez. Race Control halted proceedings, allowing Grosjean to effectively carry out his mandatory pit stop, and he rose to sixth. It was a shock result for a new team.
Phenomenal fifth second time out
If Australia had fortune then Bahrain fully validated Haas' decision to enter Formula 1. Grosjean qualified a strong ninth as Haas' VF-16 suited the Sakhir circuit – but better was to come in the race. In an encounter without a red flag, fluky strategy or high retirement rate Grosjean made gains to classify in fifth position. Grosjean and Haas held fifth in the respective standings and while they regressed thereafter the team had shown it belonged in Formula 1 and ruffled the feathers of some who queried its model.
Getting both cars in the points
Gutierrez failed to score a point in 2016 but with Magnussen on board in 2017 Haas had two drivers capable of challenging for the top 10. Around the streets of Monaco Grosjean converted his eighth on the grid after 78 laps of racing while Magnussen benefitted from a couple of incidents elsewhere to round out the top 10, having started from 13th place.
Magnussen extracts unlikely eighth
Haas has always struggled at the high-altitude Mexico City-based venue and 2017 was no different. Haas was slowest in qualifying, behind even the Saubers with a year-old Ferrari power unit, though Magnussen was promoted to 14th on the grid owing to penalties elsewhere. Magnussen and Haas nailed the strategy, benefiting from a mid-race Virtual Safety Car, and somehow classified in eighth place. Magnussen labelled it "like a victory" and, given the inherent lack of pace, it was an astonishing result.
Haas gives Netflix box office material
Haas began the 2018 campaign in buoyant mood at a venue where it had thrived in previous seasons. Magnussen qualified in sixth position, with Grosjean seventh, the duo fronting Formula 1's midfield contingent. Haas looked firmly on course for a haul of points but a cross-threaded wheel nut left Magnussen out and then one lap later the same issue thwarted Grosjean's prospects. Haas' prospects unravelled humiliatingly in the course of just a few minutes – and it was all captured for the opening episode of Netflix's Formula 1 documentary…
Grosjean's shunts and skirmishes
Grosjean's 2018 reached a disappointing low with an embarrassing shunt behind the Safety Car in Azerbaijan but it got worse at the next event in Spain. Grosjean lost control on the opening lap and as he spun across the field was collected by Nico Hulkenberg and Pierre Gasly. Magnussen salvaged sixth place in the sister Haas but it was a missed opportunity for a haul of points – and added the pressure on to Grosjean.
I'm feeling 22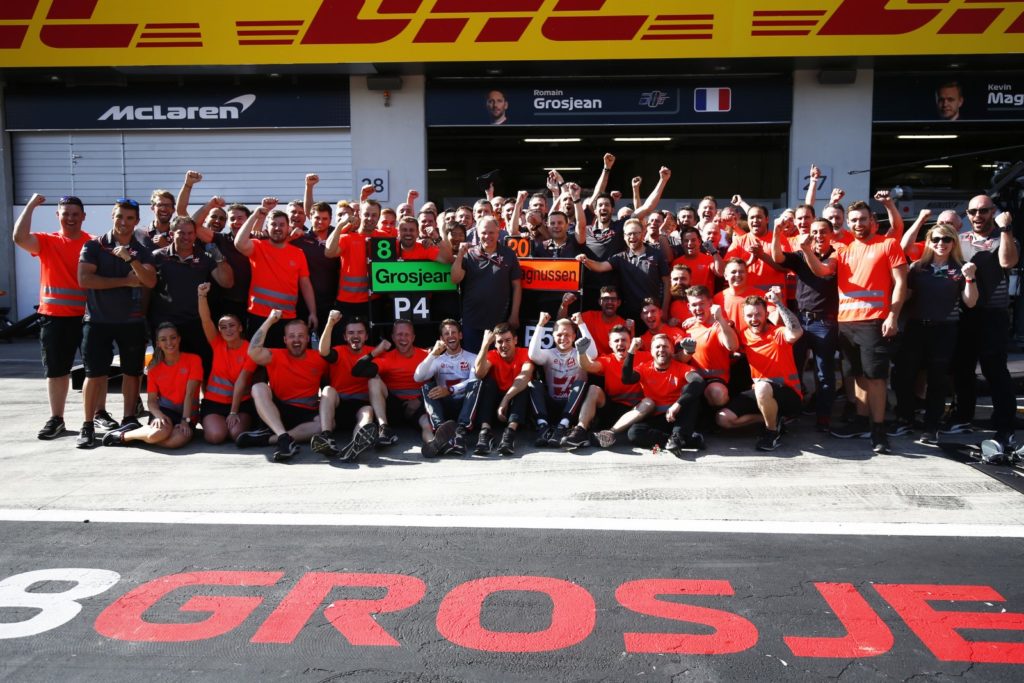 Grosjean failed to score for eight successive races, and was desperately disappointed to miss out upon Formula 1's return to France, but at the next event in Austria Haas hit the jackpot. Its VF-18 performed well at the Red Bull Ring, with Grosjean qualifying fifth and Magnussen eighth. In race trim the duo avoided drama and profited from the exits of both Mercedes drivers and Red Bull's Daniel Ricciardo. Grosjean netted fourth, Magnussen fifth, giving Haas a best-ever haul of 22 points.
Home hopes hit
Haas hoped to perform strongly on home soil but never quite hooked up its VF-18 and spent the weekend battling on the fringes of the top 10. Nonetheless Magnussen delivered a fighting performance to claim ninth place – only to be disqualified post-race for exceeding the 105kg fuel limit by just 170g. Haas took responsibility for the setback but Magnussen was left to lament 'Formula Fuelsaving' as the team missed out on points.
Smashed doors
Haas held ambitions of maintaining its 2018 form but struggled to develop its 2019 package. At Silverstone it ran varying specifications in order to evaluate the differences but the weekend began badly when Grosjean crashed in the pit lane in FP1. Grosjean and Magnussen then clashed on the first lap, retired, and were castigated publicly by the team after a furious row that famously left boss Guenther Steiner with a broken office door. Off-track the Rich Energy saga was winding up. It was, all in all, a horror show.
Formation lap gamble
Haas, lumbered with Ferrari's uncompetitive power unit, has again been a backmarker in 2020, with points opportunities few and far between. A pre-race shower prompted the grid to fit Intermediates but Haas gambled on the formation lap by switching its drivers to slick tyres. When the rest stopped after a couple of laps Magnussen and Grosjean rose to third and fourth respectively. Magnussen classified ninth but was demoted to 10th post-race owing to Haas having broken radio regulations.