As the laps ticked down at Monza on Sunday the smattering of French journalists present in the press room could barely keep it together. Every now and then a table slam was accompanied by an 'Allez!' and when Pierre Gasly crossed the line it ended a wait of 24 years for the 'Tricolour' to fly atop the Formula 1 podium.
It wouldn't be such a wait for most nations but France is the home of grand prix competition, the sport's governing body, and its 80 wins puts it fourth on the all-time list, behind only the United Kingdom, Germany and Brazil.
France's Formula 1 success peaked with the career of Alain Prost, who won four world titles, the final coming in 1993, after which he retired from the sport.
Most of Prost's success came after a boon period for France, which had race-winning drivers in Rene Arnoux, Jacques Laffite, Didier Pironi and Patrick Tambay.
Even after Prost's retirement there was still representation for France courtesy of Jean Alesi and Olivier Panis.
Alesi won the 1995 Canadian Grand Prix while Panis surged from the midfield to triumph at a rain-hit race in Monaco the following year.
There was the hope of more success for both drivers but it never materialised.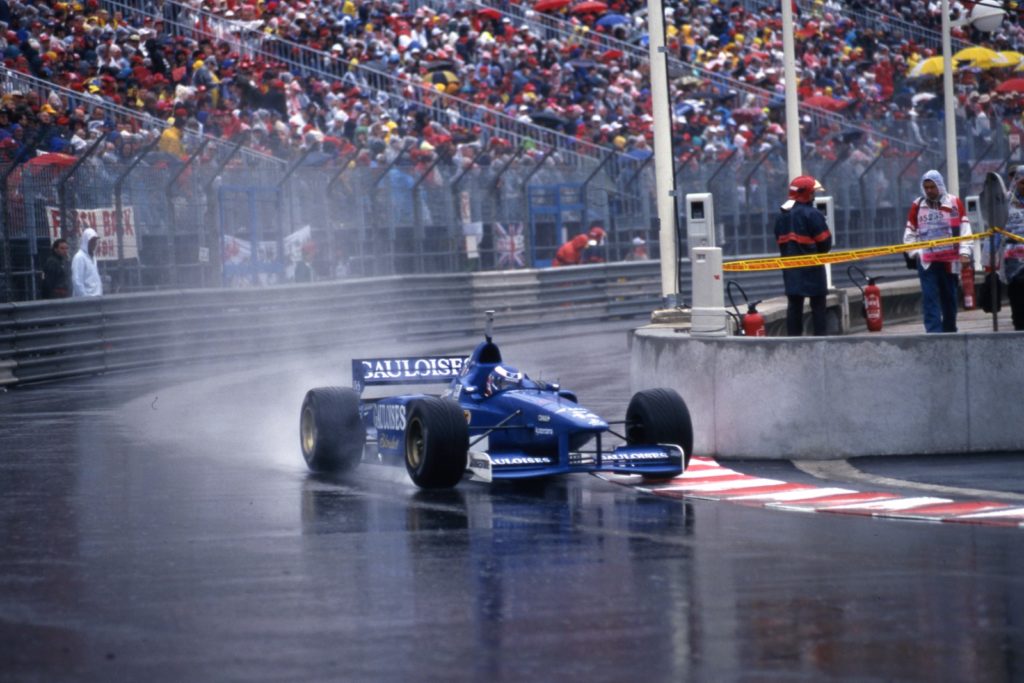 Alesi came agonisingly close with Benetton but none of his 14 podiums across a two-year stint resulted in a win, after which his career petered out at Sauber, Prost and Jordan.
Panis thrived in early 1997 in the tidy Prost JS45, which had a big benefit in Bridgestone tyres, but a leg-breaking crash in Canada wrecked his season.
Panis remained competitive upon his return but his machinery was firmly midfield fodder, bowing out in 2004 after spells at Prost, BAR and Toyota.
France did have a successful single-seater driver during the mid-2000s – but he was plying his trade in North America.
Sebastien Bourdais marched to four straight Champ Car titles and for 2008, just as the US top tier series reunified, he inked a deal to race for Toro Rosso in Formula 1.
Bourdais came close to a podium in the dramatic Belgian round and in Italy lined up fourth, only for his car to not select first gear, and after that his Formula 1 career faltered.
Toro Rosso replaced Bourdais mid-2009 just as France's next prospect came along: Romain Grosjean.
A brief stint at the end of 2009 was followed by rebuilding his career and in 2012 he returned with a rapid Lotus car and a propensity for crashing.
Grosjean claimed nine podiums, coming close to victory on several occasions, most notably in the latter stages of 2013 when he was regularly the nearest challenger to the Red Bull/Vettel steamroller.
That year was encouraging for French Formula 1 hopes. Grosjean was contending at the front. Red Bull had Jean-Eric Vergne at Toro Rosso. Ferrari-backed Jules Bianchi was excelling at Marussia. There was also Charles Pic.
But in 2014 Grosjean was lumbered with an awful Lotus, Vergne was axed by Red Bull, and Bianchi sustained fatal injuries in the Japanese Grand Prix.
Gasly's promotion to Red Bull for 2019 gave France its best hope yet of bringing the win drought to an end but his struggles against Max Verstappen prompted Red Bull to demote him to Toro Rosso.
And then came Monza – with Gasly taking a shock win for Red Bull's junior team, AlphaTauri.
With Gasly reminding onlookers of his ability, and Esteban Ocon plying his trade at Renault, another French win probably won't take 24 years.