For the past two seasons Williams has been Formula 1's slowest team in nearly every metric, a humiliating fall from grace for a squad third on the all-time victory list and second in number of Constructors' titles won.
Williams failed to make it out of Q1 through all of 2019 and scored just one inherited point in a dreadful season in which it was often a second per lap slower, mired at the back with no hope of fighting rivals.
But 2020 has already provided encouraging signs that Williams has stopped the rot and not just plateaued but set the path for its road towards recovery.
After its awful start to 2019 most of its upgrades after mid-season delivered the desired gains, providing it with confidence, that it hoped would carry through to 2020.
The opening back-to-back events at Austria's Red Bull Ring proved that pre-season optimism was not misguided – but neither should the team be jumping up and down in jubilation just yet.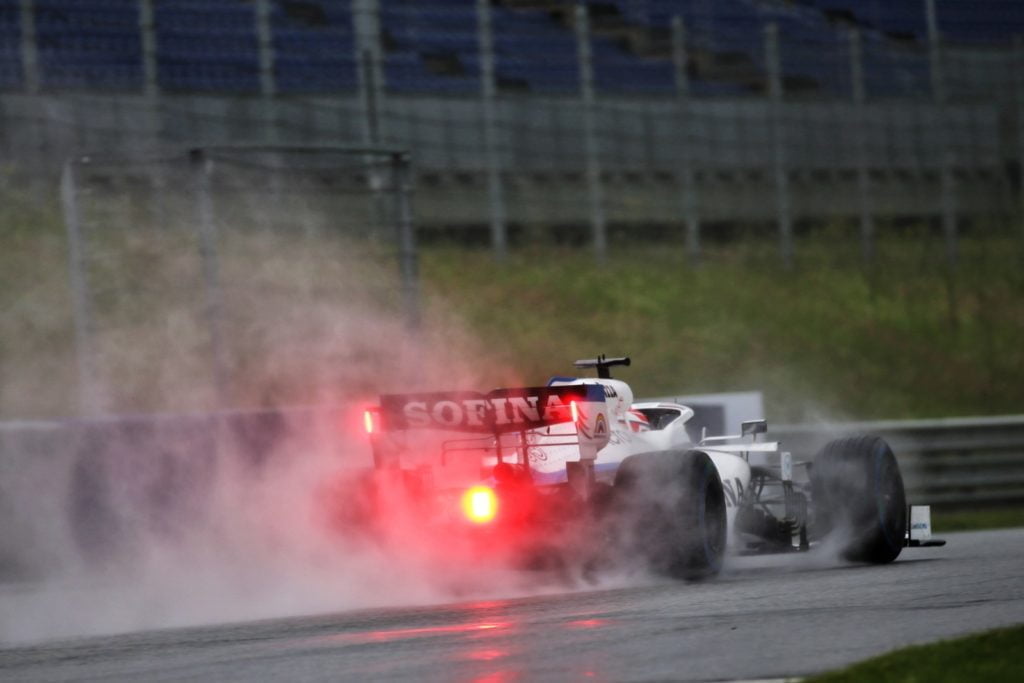 Q2 reached after just two races
Williams suffered 21 double Q1 exits out of 21 last year and typically only picked up positions on the grid when rivals erred. The closest it came was in Hungary, when George Russell was within a tenth of Q2, while in Austria he was 1.1s off the top 15 positions.
At 2020's Austrian Grand Prix Russell almost made it through to Q2 and felt that the lack of a slipstream on his last push lap cost him two-tenths of a second, which proved to be the difference. Nonetheless Russell out-qualified both Alfa Romeos, ensuring the FW43 was not the slowest car.
Team-mate Nicholas Latifi, the only rookie in the 2020 field, was some way off though attributed his deficit to building up confidence and speed in the wake of a crash in FP3 that also denied him a qualifying simulation.
When wet conditions struck the Styrian Grand Prix Williams thrived, with Russell making it through to Q2, where he set a time just a tenth shy of Sebastian Vettel, who was 10th.
Latifi should have joined his team-mate mid-grid and was the faster of the duo in the early stages of Q1, before missing out when Antonio Giovinazzi spun exiting Turn 9, bringing out the yellow flags. The session was then prematurely stopped when the Alfa Romeo driver halted his C39 further around the track.
"Mercedes have made really good gains from last year in our qualifying modes which definitely helps us in comparison to Haas and Alfa Romeo who I think have taken a step backwards in the power unit side from Ferrari," said Russell.
"I was surprised how comfortable I felt getting up to speed, I've always been quick in the rain in junior categories, but it's a different animal in Formula 1," said Latifi on the wet session, while ruing the misfortune that denied him a Q2 berth.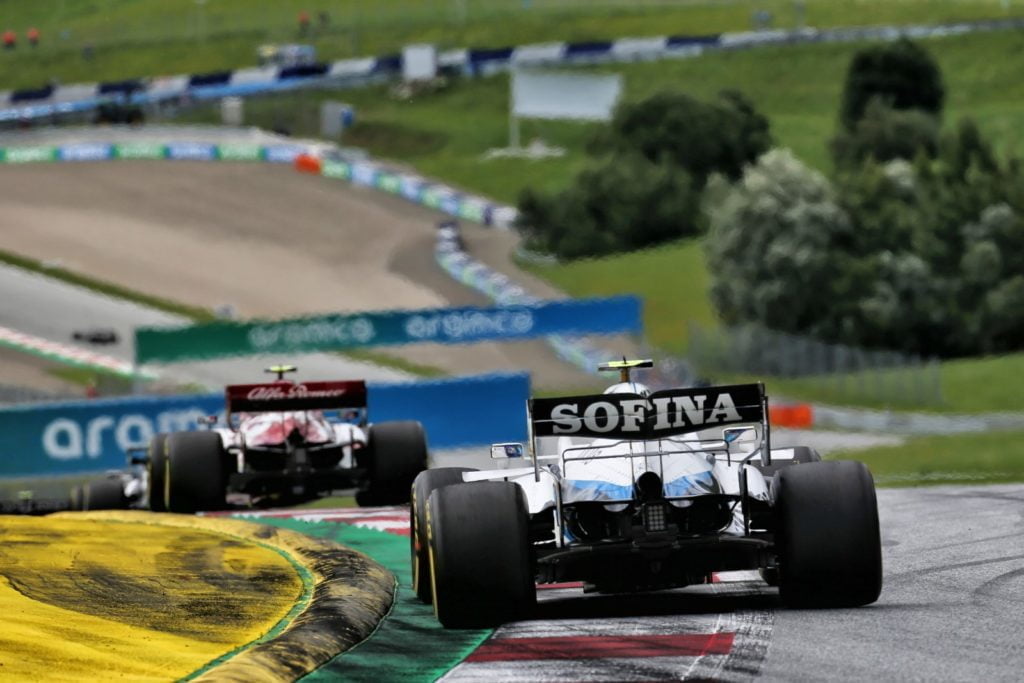 Race pace raises questions
This is where Williams was not as strong – and it came as a surprise to the team.
Russell was on course for the top 10 in the attrition-filled Austrian GP until he too became a victim of the high retirement rate when he suffered an engine-related issue.
Latifi set his sights on reaching the finish and he did so, revealing afterwards that he had to spend a lot of the race battling high temperatures and other assorted issues.
Russell's lofty grid spot in Styria was wasted when he went off at Turn 6 on the restart – for which he accepted full responsibility – and dropped to the back of the field, having been 11th.
Russell, who lost seven seconds in the off, went on to pass Latifi, beating his team-mate to the line by four seconds, as both drivers finished two laps down. Russell was 15 seconds behind AlphaTauri's two-stopping Pierre Gasly, who in turn was the same gap down on a group containing Daniil Kvyat, the Alfa Romeos and the Haas drivers – which in Styria were very much the 'Midfield B' contingent.
"These last two weekends have been interesting," said Russell. "We approached the weekend thinking we'd struggle a bit more in qualifying and have better race pace in comparison, that's what we learned in winter testing, and also what we learned Friday of Austria of Round 1.
"And yet both races and both qualifying sessions have been the complete opposite, we've had strong pace in qualifying but have really struggled in the race.
"It is a sport where qualifying is key, this is a circuit where you can race, in the race I messed up, but looking at our pace we probably would have ended up in the same position had I not gone off as well with the pace we had."
Added Latifi: "I felt more comfortable in the second race, having a lot of the unknowns not unknown anymore, such as the start, the first laps, general performance, managing the tyres, so I feel I did a much better job than in the first race – even though the result didn't show that. We were not as quick as we thought we were going to be. We thought we'd have a chance of fighting the Haas [drivers] but it didn't turn out to be that way. I was around George most of the race, he was a bit quicker, but we were by ourselves."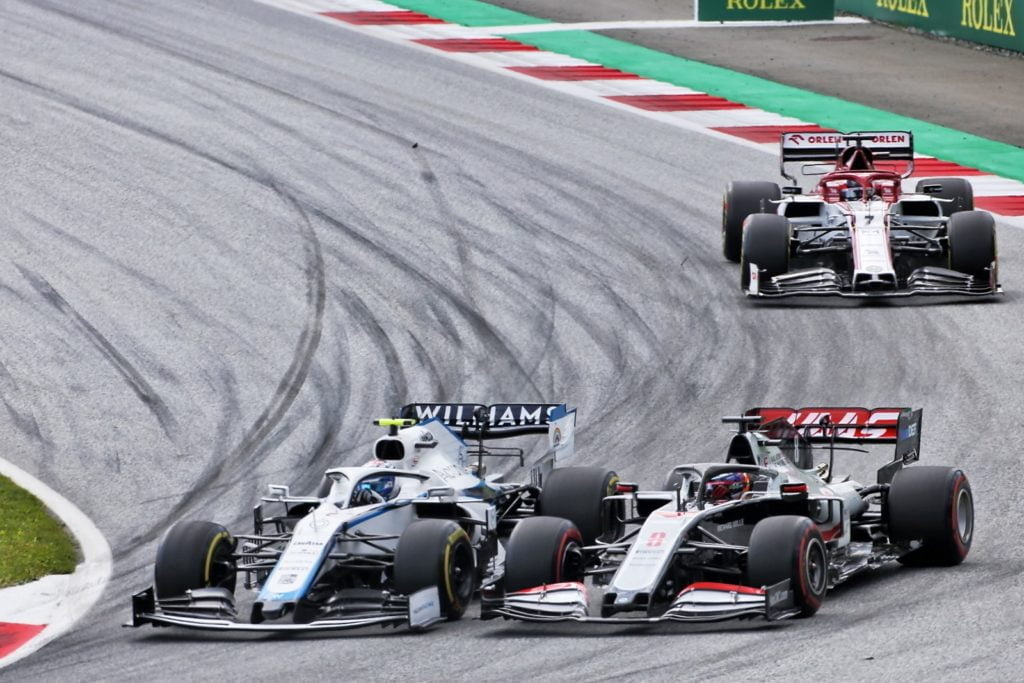 What's positive, what's not?
Williams has been faster than one team, at least, in both qualifying sessions – and in dry and wet conditions. That is encouraging. It is no longer the hopeless tail-ender and if it gets everything right it can make Q2, while it is in possession of a car that is not giving the drivers the heebie-jeebies. That was not the case in 2019, when Russell and Robert Kubica felt the car was going to zig when it should zag. But it still appears to be the slowest car in race trim – which is backed up by the pure results.
"The big thing is always going to be grip, downforce is king as they say, so even if the balance from entry to exit is all over the place with more grip you'll go quicker," said Latifi, who drove the 2019 car in selected FP1s and testing. "One thing that was improved on the car this year is the driveability and when I say that I mean predictability, how the car handles from entry to apex to exit, and being more consistent, so it gives us more confidence. It's a more consistent car, you're not having to anticipate, or guess, what the car's going to do, everything feels more natural and more predictable, so this is a big area that has been improved."
Russell commented that "one thing we're really struggling when we're close to cars ahead of us, the car feels very sensitive from an aero perspective. When I'm in clean air the car feels good, when I'm within 2-3 seconds of a car I'm really struggling, which is an issue." For a team at the back of the grid that is a setback that needs as much resolving as possible.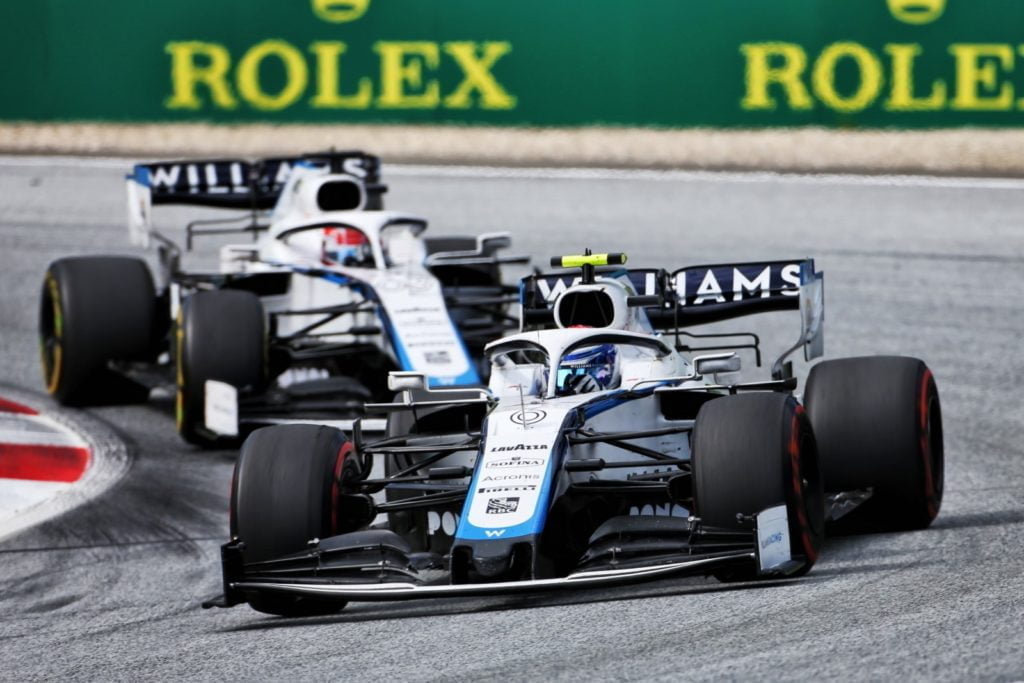 What about the drivers?
Williams has the least experienced driver line-up on the grid and even its 'veteran' of 23 grands prix still has a lot to learn, given he spent all of last year alone at the back. For the first time in his Formula 1 career Russell has been able to fight with competitors while Latifi is in a similar predicament, having only just stepped up from Formula 2.
"For me I've had a lack of battling over the last year, that's far from an excuse [for the error] but it's something that… I was in the midfield, something I didn't experience one single time last year," said Russell.
"I could feel what it's like to attack the driver when there's load of cars ahead, feeling that lack of downforce, gaining that experience, and to learn you always have to make mistakes.
"Your race craft at the back of the pack on your opening laps is very different to what it would be at the front of the pack. You get quite a concertina effect of cars getting backed up into corners, like you saw with Charles [Leclerc] and [Sebastian] Vettel, and at the front of the pack you don't have that, you can attack more, you don't have that concertina effect, that's one small factor.
"It's a different style of racing, really focus on positioning, and as I learned you sometimes can't attack 100 per cent to make these moves because you have such a lack of downforce with so many cars around you, it really is quite messy sometimes, so like I say, I am sort of learning how Formula 1 is in the mid-pack and battling cars whereas last year I only had one guy to battle."
Hopes for Hungary
Russell's lap in Hungary last year was the closest it got to making Q2 all year and while that box has now been ticked Williams is still pushing to reduce its deficit.
Williams' FW43 is still draggy – though nowhere near as bad as its predecessor – and fewer full-throttle sections in Hungary should aid its cause, though the reduced reliance on power will ostensibly assist nearest opponents Alfa Romeo and Haas as well.
"We've got a couple of interesting bits in the pipeline, something we had over these past weekends, I had it last week, Nicholas had it this week, front suspension that seemed to work well," said Russell. "I think when you get to a certain point it is chipping away at it, I need to have a sit down with the aero guys as obviously in an ordinary season you go racing, analyse the data, and you know where it is to improve.
"Every team has only had winter testing to base the updates on whereas you need to keep driving and driving to learn the car and understand how to improve. Even though we are seven months into the year no team has seven months of development, we have two races worth as we have only done two races."