The news that Williams has severed ties with title sponsor ROKIT means that the Grove-based organisation is set to tweak its livery when the Formula 1 season begins in Austria. It means the scheme that adorned its FW43 pre-season will never be raced. MotorsportWeek.com delves into the archives to look at other unraced paint jobs.
When Renault's RS27 was launched it did so with an interim blue-and-yellow livery, a tweak on the previous era's scheme, following the exit of Mild Seven. This scheme was used during testing at Jerez before the full ING-backed livery was unveiled at the end of January.
Okay, so this scheme was raced – but not exactly like this. McLaren's striking chrome livery on the MP4-22 was adorned by the red of Vodafone for seven years but in mid-2007 at a test session at Silverstone this was replaced by black as the squad assessed an array of new parts, with Fernando Alonso at the wheel.
In 2004 some teams were allowed to field a third car in practice and BAR-Honda was one such entrant. Tester Anthony Davidson made a handful of outings in Friday sessions and a highlight was the scheme that displayed the driving position.
And in China the team ran a completely revised scheme for Davidson in practice. Team owner British American Tobacco wanted to promote its 555 branding and thus there were revised overalls, garage decals and team wear – with Davidson's car running in blue and yellow, similar to the original 1999 design, on Friday.
Under its Honda guise the team pulled a similar approach during practice in Turkey, with Davidson's car running with substantially more red in deference to a local sponsor – making it resemble a Super Aguri more than a Honda.
When Red Bull first appeared with its own team at the end of 2004, having taken over the Jaguar operation, the R5 ran in a scheme resembling one of its energy drinks can. By the time the 2005 season rolled around its corporate colours had arrived on the RB1.
Force India arrived to testing in 2017 with an evolution of the predominantly silver scheme that it had used since 2015, but the car looked very different by the time of the first race. BWT arrived and in came the now synonymous pink, meaning this livery – on this car – was never raced.
Long before McLaren switched back to the papaya scheme of its founding days the team occasionally ran a tantalising test livery. It did it once, in 1997, and then again in 2006, before finally reverting to the colour in 2017.
In both the winter of 2007 and 2008 Honda ran with a test scheme. One year it went black – with Jenson Button sporting a helmet to match – and the next season it opted for white. Both liveries were replaced with the respective Earth Dreams concept for the race season.
When Vijay Mallya took control of Spyker at the end of 2007 the Force India team was born. It entered 2008 with a gold, red and white scheme but during testing over the winter its car appeared in a burgundy and white shade not too dissimilar from current Alfa Romeos.
Alfa Romeo sprung a surprise in 2019 when its new Formula 1 car ran in a patterned burgundy and black scheme, complete with hearts, during a shakedown at Fiorano – before it reverted to its expected colours thereafter. It repeated the trick in 2020.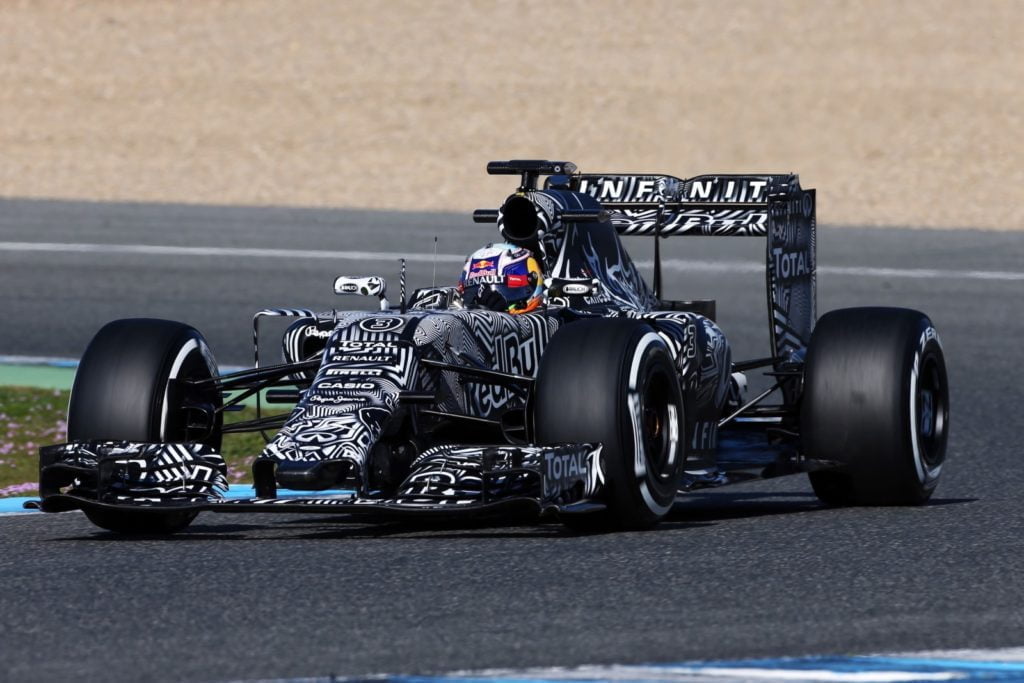 The most famous unraced livery of them all? Red Bull's 2015 machine participated in testing in the 'CamoBull' scheme, mimicking the 'dazzle' approaches used by road car companies and, historically, on some warships to dupe onlookers. Did it work? Not really. The RB11 was Red Bull's only winless car of the 2010s.
Red Bull's 2018 car arrived with much fanfare when it appeared during a Silverstone shakedown in blue and silver. It was much the same with the 2019 car in a red and black approach. But neither livery lasted beyond those early few laps as the corporate colours returned for pre-season testing.
Williams has sometimes run an interim livery during testing and in doing so reverts to its traditional blue. This approach was last adopted in early 2014, prior to its rebranding when Martini joined as title partner.
When Renault returned full-time to Formula 1 in 2016 it ran a predominantly black car during pre-season testing, before switching to yellow for Melbourne. A similar approach was used in 2020 – though the full DP World-sponsored scheme, unveiled on the Wednesday of the Australian Grand Prix, has not yet hit the track due to the coronavirus pandemic!