Carlos Sainz Jr. will don the famous red overalls of Maranello in 2021 after signing a two-year deal to become Charles Leclerc's team-mate at Ferrari. Motorsport Week charts his journey from under the wing of Red Bull to the stable of Formula 1's most famous team.
2010-13 | Early junior career: Promise, then a roadblock
Sainz Jr. showed speed through his junior single-seater career as he rose through the ranks, backed by Red Bull, taking the Formula Renault 2.0 title in 2011 in only his second year of racing. He bested fellow protégé Daniil Kvyat for that title but after a fairly indifferent 2012 across a range of Formula 3 categories he was placed in GP3 for 2013, again alongside Kvyat. Sainz Jr. had Formula 1 tests but when an opportunity arose with Toro Rosso it was Kvyat who grabbed it, having enjoyed a late surge that swept him to the crown. Sainz Jr., meanwhile, claimed just a sole podium finish and finished at the foot of the top 10.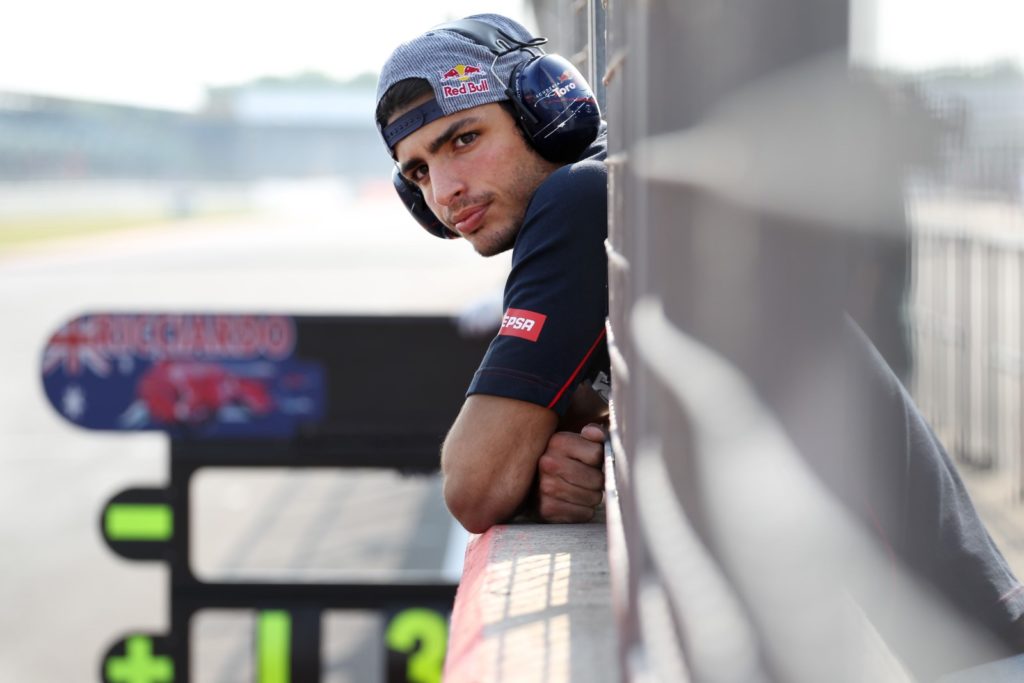 2014 | A rollercoaster year and redemption
Sainz Jr. moved full-time to Formula Renault 3.5 in 2014 and at that stage the series was recognised as GP2's equal. Sainz Jr. was a title favourite and established his credentials with five wins, but a mid-season blow was dealt when Red Bull swooped to sign Max Verstappen, securing his services with the offer of a 2015 Toro Rosso seat. With Kvyat confirmed, it left no room at the inn for Sainz Jr. But Sainz Jr. hit back with two wins, won the title, and when Sebastian Vettel moved to Ferrari he was replaced by Kvyat, in turn opening the door for a replacement. Sainz Jr. had another F1 test post-season and was swiftly confirmed as a 2015 Toro Rosso driver.
2015 | An encouraging rookie year, and a big shunt
Sainz Jr. qualified in the top 10 on his debut in Australia and raced to ninth position, following it up with eighth in Malaysia, and more points in Spain and Monaco – the latter from the pit lane. But a sequence of mid-season reliability issues and setbacks stymied his progress as fellow rookie team-mate Verstappen bagged some eye-catching results. Sainz Jr. escaped unharmed from an enormous practice crash in Russia in which his car submarined the barriers, and was miraculously cleared to race the next day. Seventh in the rain-hit US Grand Prix in Austin proved his best result.
2016 | More points against worsening power
Verstappen moved on to Red Bull after just four races, leaving Sainz Jr. up against old rival Kvyat, whom he comfortably out-classed. Sainz Jr. scored points in eight of the opening 11 grands prix, including a stunning sixth on home soil in Spain, but fortunes dipped after the summer break. Part of that was down to Toro Rosso's use of a year-old Ferrari engine, meaning the team lost out in the power stakes with each passing event, as rivals ramped up development. But even accounting for that shortfall Sainz Jr. managed a surprising sixth in Austin and followed it up with the same placement in the deluge in Brazil.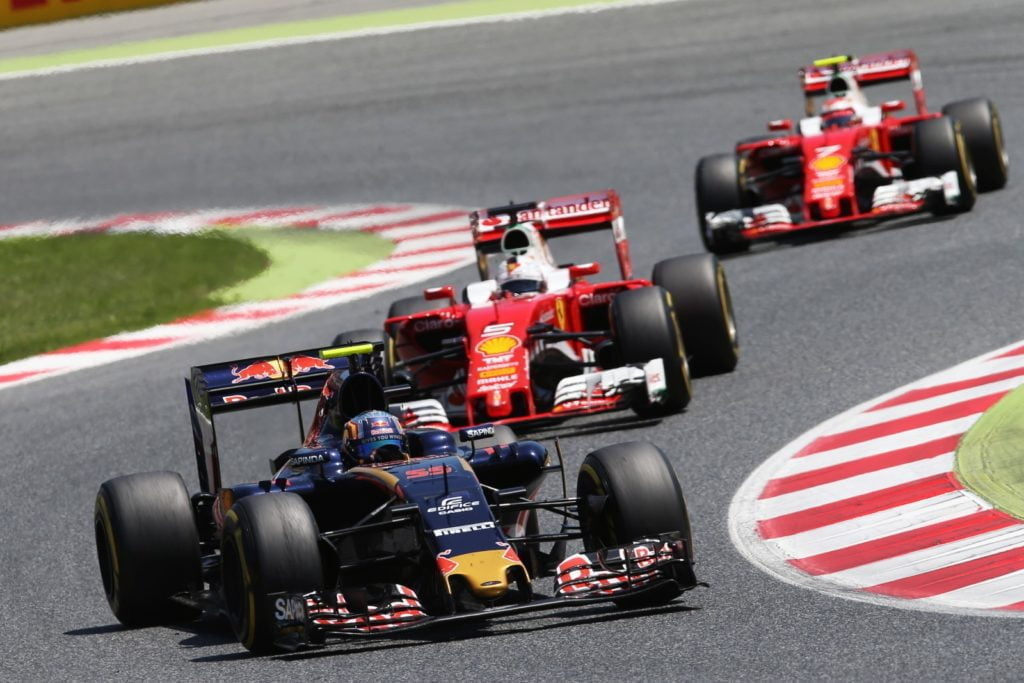 2017 | Clashes, charges, and contracts
Sainz Jr. remained a class above the struggling Kvyat in 2017 though had a smattering of run-ins with his team-mate, and a few clashes elsewhere, most notably cruising into Lance Stroll in Bahrain. But countered to that were some outstanding drives in Monaco (sixth), Hungary (seventh) and Singapore (a career-best fourth). His form, and apparent lack of future at Red Bull, led Sainz Jr. to push through a move elsewhere, having been publicly rebuked by Christian Horner mid-season. Sainz Jr. eventually made the step to Renault for the final four races, taking seventh on his debut in yellow and black in Austin.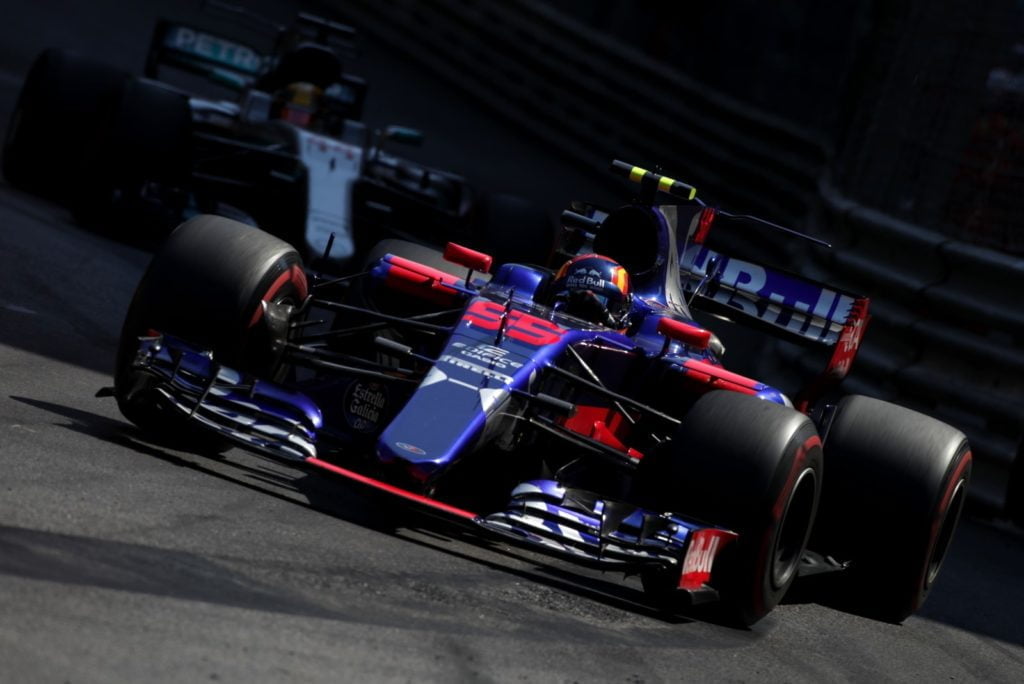 2018 | Treading water at Enstone
Sainz Jr. remained on loan at Renault in 2018 and had a year of good, but not outstanding, performances. He proved a decent foil for team-mate Nico Hulkenberg, who out-scored Sainz Jr. by 16 points across the course of the campaign. But by the time F1 emerged from its summer break Sainz Jr. was already heading out of the exit door. When Renault had the chance to recruit Daniel Ricciardo it pounced, tying him to a two-year deal, and with Hulkenberg contracted for 2019 Sainz Jr. was left out in the cold. He quickly secured a berth at McLaren.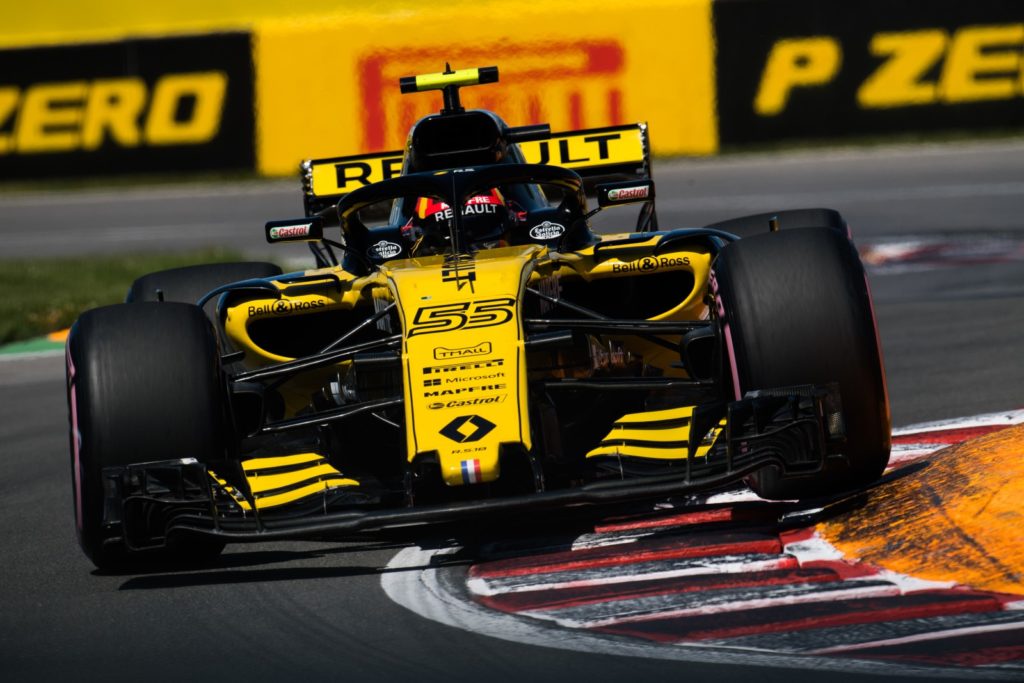 2019 | Smooth operator nets a trophy
Sainz Jr.'s campaign started badly but once he and McLaren hit their stride they emerged as Formula 1's midfield leaders. A string of fifths and sixths prior to the summer break were exceptional while a post-summer spate of incidents was consigned to history with more stellar drives in Russia and Japan. But that was surpassed by his rise from the back of the grid to fourth in Brazil – which became third when Lewis Hamilton was penalised. It was Sainz Jr.'s maiden podium after over 100 starts, McLaren's first in five years, and sealed fourth in the standings for McLaren. A last-lap pass on Hulkenberg in Abu Dhabi netted Sainz Jr. 10th – and the point he needed to secure a career-best sixth in the championship.