On this day 70 years ago the very first Formula 1 World Championship Grand Prix took place at Silverstone. As we await the delayed start of the 2020 season, Motorsport Week looks at what happened to the participants from Round 1 – the 1950 British Grand Prix.
1st | Giuseppe Farina
Farina rekindled his pre-War relationship with Alfa Romeo and entered the Formula 1 World Championship with the Italian outfit. Farina dominated the event and went on to be crowned the very first Formula 1 champion. Farina won two more races and another 15 podiums prior to his retirement mid-1955, after the death of Alberto Ascari. He attempted to return for the Italian Grand Prix, but a high-speed crash in practice led to Ferrari withdrawing the car and he took no further part in the event. Farina was killed in a car crash in the Alps en route to 1966 French Grand Prix at Reims, where he was set to be a driving double for Yves Montand in the film 'Grand Prix'.
2nd | Luigi Fagioli
Fagioli claimed his sole F1 victory at the 1951 French Grand Prix at Reims, sharing cars with Juan Manuel Fangio after the Argentine's car suffered mechanical problems. Fagioli was awarded victory and in the process became the oldest driver to win a race, aged 53 years and 22 days. After being incensed by Alfa Romeo's decision to force him to step aside for Fangio in the race, Fagioli quit the team on the spot. He signed a sportscar deal with Lancia for 1952 and whilst practicing for the Monaco Grand Prix – which was a sportscar event that year – Fagioli crashed exiting the tunnel. He died from complications three weeks later.
3rd | Reg Parnell
Third-placed finisher Parnell achieved greater success in sportscars than Formula 1. The Derbyshire-born racer finished second and third in class at the 24 Hours of Le Mans for Aston Martin in 1950 and 1951 respectively. In 1953, he took a class win at the 12 Hours of Sebring, finishing second overall. After retiring from racing, Parnell turned to team management with Aston Martin, overseeing the win for Roy Salvadori and Carroll Shelby at the 1959 24 Hours of Le Mans. He went on to work with such talents as Salvadori, Chris Amon and Mike Hailwood. Parnell passed away in 1964 from peritonitis after a routine appendix operation.
4th | Yves Giraud-Cabantous
The highest non-Alfa Romeo in the race, a twice-lapped fourth, Giraud-Cabantous went on to drive for the Talbot-Lago and HWM outfits over his four-year stint in F1. He went on to score points just once more, placing fifth at the 1951 Belgian Grand Prix. After the 1953 season he retired from racing to run his transport business. He passed away in 1973, aged 68.
Picture courtesy of Alfa Romeo
5th | Louis Rosier
Rosier had previous experience of Grand Prix racing prior to his entrance into F1, claiming a podium finish at the 1949 British Grand Prix and winning an international event at Spa-Francorchamps later that year, becoming French national champion. During his career, he would often run as a privateer entrant with his own team 'Ecurie Rosier' and drove a Talbot-Lago T26C for the 1950 British Grand Prix, finishing the race as the final point-scorer – which was then fifth. His 1950 season reached new heights in the month of June, first picking up two podium finishes in the Swiss and Belgian grands prix respectively. He then scored a tremendous win at the Le Mans 24 Hours with his son Jean-Louis, but somehow did so by driving all but the final two laps of the race! Before his death in a sportscar race in 1956, he promoted the idea of the adaptation of Circuit De Charade which would later become the Clermont-Ferrand circuit, which hostedt F1 and Motorcycle Grand Prix events in the 1960s and 70s.
6th | Bob Gerard
Gerard acquired his first race car from Parnell and, with his skills in engineering and an eye for detail, got hold of an ERA R14B that was adapted for circuit racing. Gerard never won a Grand Prix but excelled in machinery that was far less capable than front-running packages. Gerard replicated sixth in Monaco and then seven years later in Britain, which proved to be his final event. He later assisted nephew Julian's motorsport career and ran a car dealership with wife and fellow racer Joan. He died, aged 76, in 1990.
7th | Cuth Harrison
Mechanic Harrison got into motor racing after the war and seventh was his sole finish from three entries across the 1950 season. The Sheffield-born racer eventually called time on his competitive career to focus on opening up a family-run Ford dealership, which still exists to this day in Derby. Harrison passed away in 1981.
Fagioli, Farina and Fangio in 1951. Picture courtesy of Alfa Romeo.
8th | Philippe Étancelin
Born in 1896, affectionately known as 'Phi-Phi' by his rivals, Étancelin enjoyed a stunning career racing against the legendary talents of Tazio Nuvolari, Rudolf Caracciola and Baron De Graffenried prior to the breakout of the war. His impressive skills earned him victories at challenging circuits like Reims, Pau and Monaco as well as taking victory at the 24 Hours of Le Mans in 1934 with Alfa Romeo. His World Championship career came in the twilight years of his life as a driver, though he still recorded finishes of fifth at the French and Italian Grand Prix. He became a leading in figure in the Anciens Pilotes organisation for retired French racing drivers. Étancelin passed away in 1981, aged 84.
9th | David Hampshire
Hampshire was a businessman whose amateur racing endeavours were interrupted by the outbreak of the war. In the inaugural championship race he entered a Maserati 4CLT/48 for Scuderia Ambrosiana and finished in ninth place, six laps behind Farina. His final Grand Prix appearance came later that year at Reims, where he retired. He won the non-championship round at Gamston and even competed in the 1951 24 Hours of Le Mans for Aston Martin, but retired from racing at the end of that year.
10th| Joe Fry, Brian Shawe-Taylor
Fry, a former RAF pilot and talented hillclimber, was, unfortunately, the first of the gang to die. He purchased a Maserati 4LT, which he shared with Brian Shawe-Taylor. Fry did the majority of the driving, completing 45 out of 64 laps before Shawe-Taylor brought it across the line in 10th. It would be his final Grand Prix appearance as he was killed in practice at hillclimb in Blandford Camp in Dorset at the age of 34 that July. Shawe-Taylor wanted to enter his own ERA B-Type but it was deemed too old and his entry was subsequently denied. His racing career was brought to an end by a heavy crash in the 1951 Goodwood Trophy, which caused him to go into a coma. He made a full recovery, but never raced again.
11th | Johnny Claes
London-born, British-educated Belgian jazz artist Johnny Claws was perhaps one of the most colourful characters on the grid at Silverstone. He was the leader of his band 'Johnny Claes and his Clay Pigeons' and raced a Talbot-Lago T26C under the Ecurie Belge banner, finishing tenth. Afterwards, he continued to race in both Grands Prix and at Le Mans (taking a class win with Porsche in 1954) and also became a racing journalist. He would race in F1 until 1955 but succumbed to tuberculosis one year later at the age of 39.
Picture courtesy of Alfa Romeo
Retired | Juan Manuel Fangio
Fangio qualified third as part of the dominant Alfa Romeo squad but his was the sole car representing the marque that did not reach the finish, owing to an oil issue. But he went on to become one of motorsport's greatest drivers, winning five world titles with Alfa Romeo, Maserati, Ferrari and Mercedes, with whom he retained an affiliation long after he retired from competitive driving. Fangio remained in the motorsport scene, appearing for the occasional demonstration run, and died in his native Buenos Aires in 1995, aged 84.
Not classified | Joe Kelly
Kelly ran a privately-entered Alta and was so far off the pace at the rear of the field that he completed insufficient laps to be classified. Kelly returned again at Silverstone a year later, and was again unclassified, and thereafter kept his participations to non-championship events, taking third at the 1952 Ulster Trophy. But his attention was already turning to business interests and when he suffered a large accident at Oulton Park in 1955 he hung up his helmet. He died, aged 80, in 1993.
Retired | Prince Bira
There was actual royalty on the inaugural World Championship grid courtesy of Thailand's Prince Bira. He looked poised to study at Cambridge, briefly considered life as a sculptor, before trying his hand at racing, competing in blue-and-yellow cars. He was in the twilight of his racing career by the time F1 started and after retiring in 1955 he competed in the sailing category at four Summer Olympics: Melbourne 1956, Rome 1960, Tokyo 1964, and Munich 1972. He died in 1985 after suffering a heart attack in London, with police taking a couple of days to identify his body as he was not carrying identification when he fatally collapsed.
Retired | David Murray
Murray failed to finish all four races he entered across 1950-1952 but he was more well known for co-founding the Ecurie Ecosse team. Murray's squad claimed victories at the 1956 and 1957 Le Mans 24 Hours, though further success at the prestigious event remained elusive. Murray encountered problems with some of his other business ventures in the early 1960s and moved to the Canary Islands, where he died in 1973, aged 63.
Silverstone, pictured here in 2019, was the venue back in 1950
Retired | Geoffrey Crossley
Amateur racer Crossley failed due to finish due to transmission failure but had better fortunes in Belgium, placing ninth, though it proved to be his final championship start. Crossley remained active in the motorsport industry through the 1950s, appearing once at Goodwood, before focusing his attentions on his furniture business. He died aged 80 in 2002.
Retired | 'Toulo' de Graffenried
De Graffenried made regular appearances at grands prix through the 1950s and scored a best of fourth in Belgium in 1953, three years before his final start in Italy. After his retirement the well-connected De Graffenried, who had been a stunt double for Kirk Douglas in the film The Racers, the Baron worked as a promoter for prolific Formula 1 sponsor Marlboro, and also ran a successive automotive dealership in his native Lausanne, Switzerland. He died aged 92 in 2007.
Retired | Louis Chiron
Chiron, born before the turn of the 20th century, enjoyed his greatest triumphs pre-war, and has retired before fighting broke out. But he came out of retirement and claimed a podium in the second race, in his native Monaco. Chiron made sporadic starts thereafter but set the record – unlikely to be beaten – of the eldest driver to participate in a grand prix when he appeared in practice in Monaco in 1958, aged 58. He remained a leading figure of the Monaco Grand Prix organisation and died in 1979.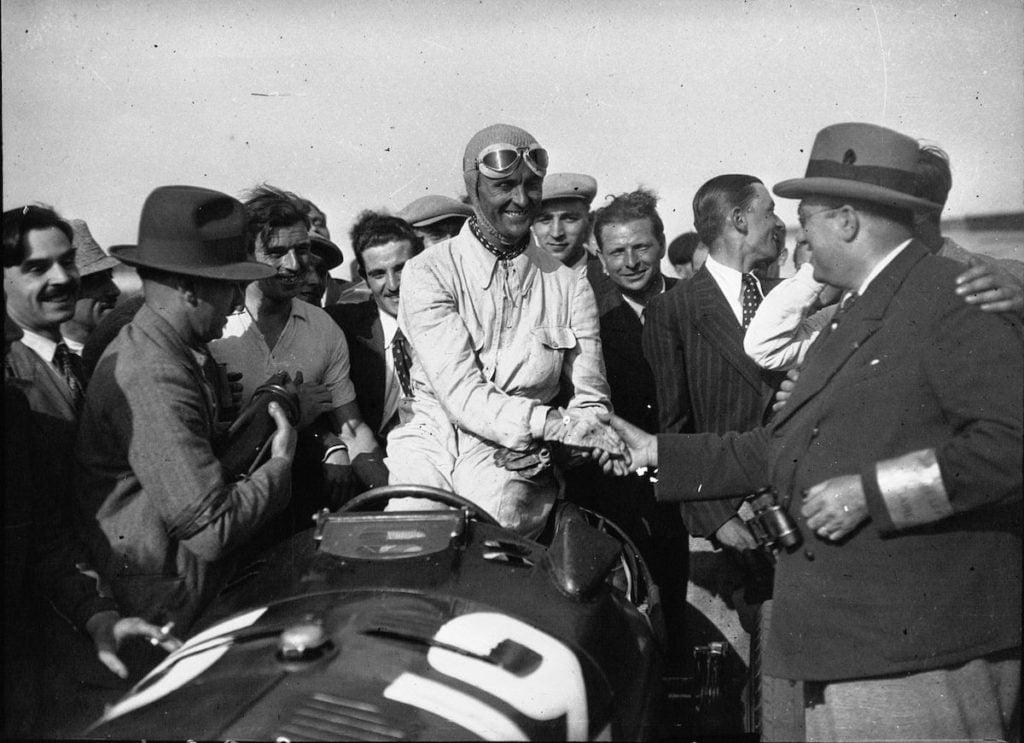 Retired | Eugene Martin
Martin's Talbot lasted only eight laps at Silverstone and he had even less fortune at his next appearance at Switzerland's Bremgarten circuit, sustaining serious injuries when he crashed out of the race. He made only occasional starts in series thereafter, finally at the 1958 Le Mans 24 Hours, and thereafter lived a quiet life. He died, aged 91, in 2006.
Retired | Peter Walker, Tony Rolt
Walker and Rolt shared an ERA that completed just five laps thanks to a dodgy gearbox. Walker's Formula 1 championship career was largely unsuccessful but elsewhere in the industry he was a winner – most notably at the 1951 Le Mans 24 Hours. He died aged 71 in 1984, having spent his later years farming. Rolt retired from two more British GPs, but, like Walker, triumphed at Le Mans (1953) and remained active in the scene as a prolific engineer and designer. Rolt, who was a prisoner in Colditz in the war, was the last surviving member of the 1950 British GP grid when he died in 2008, aged 89.
Retired | Leslie Johnson
Johnson had acquired ERA after the war but the supercharger blew itself to pieces after two laps – and that was his sole entry. He went on to finish third at the 1952 Le Mans 24 Hours and won the 1953 Monte Carlo Rally, putting his skills as a prolific hillclimber to good use. A year later he also won the event – but not before being replaced mid-rally after suffering a heart attack. His condition prompted his retirement and his heart condition ultimately led to his untimely death in 1959, aged 46.
Words by Steve Camp, Davey Euwema and Phillip Horton