Formula 1 should have made its much-anticipated return to the North Sea resort of Zandvoort last weekend, filled by a throng of orange-clad spectators, bouncing up and down in support of national hero Max Verstappen.
But instead of a packed-to-the-rafters venue reverberating to the noise of 20 Formula 1 cars and 100,000 fans the renovated Zandvoort circuit lied empty and silent, as sport – and life itself – remains on hold due to the coronavirus pandemic.
The Dutch Grand Prix is one of seven Formula 1 events for 2020 that is currently and provisionally postponed, with three – in the form of Australia, Monaco and France – already cancelled.
Jan Lammers started three Dutch Grand Prix during his own Formula 1 career in the late 1970s and early 1980s and has been an important figure in the event's revival, holding the role of Sporting Director.
Lammers should have spent the previous weekend overseeing Formula 1's return to the renovated venue but was instead with his family at home nearby, obeying the official government guidelines.
"It was a very weird feeling," a philosophical Lammers tells MotorsportWeek.com about the weekend just gone.
"I live pretty close to the race track and you have this hidden clock inside yourself, so Friday morning you think first practice would have been wet, I was monitoring everything during the weekend based on the programme that was scheduled.
"Sunday would have been a beautiful day, but still if you see the drone shots – which have been popular – and although it is a shame the race is not taking place this year as it looks, at the same time we are delighted with how the facility has completely transformed to one of the nicest tracks in the world, so we're very, very proud with what we've been able to achieve so far.
"It's bizarre that you can't race but you know it is [the same] with the whole sports world: Champions League, Premier League, you name it, it's all on the backside, we're all in this together and what I've always said is that you shouldn't want to jump the queue and feel pity, feel sorry for yourself, you have to take it on the chin and just live with it."
The return of the Dutch Grand Prix – last held in 1985 – was partly fuelled by the popularity of Verstappen in the Netherlands, with the 'orange army' having been increasingly prominent at most European grands prix since he burst onto the scene in 2015.
Any sporting event that takes place in Europe through 2020 is highly likely to take place behind-close-doors, a fate that organisers at planned opening rounds Austria, Britain and Hungary have already accepted.
"At first my personal reaction was like 'well you don't want to do that without the fans'," said Lammers.
"But that was a month ago, in the meanwhile we learn you have the spectator who actually bought a ticket, we've seen now that if they have a choice between either seeing him [Verstappen] race in Zandvoort, and being present, or not seeing him race in Zandvoort at all, or on television, then that's the alternative: they just accept they want to see him at least race at Zandvoort on TV.
"They've accepted that fact, they don't blame anyone for it, we're very blessed with a loyal fanbase.
"At the moment [the fans are] open for it, they want to see him race at Zandvoort, and if they can't be present then they accept the ticket for next year remains valid.
"It doesn't look likely that we race here but having said that you see the situation changes per day."
Lammers cautioned that "if FOM wants to race here without the public it would have to be in a way that doesn't cost us any money", pointing to the costs Zandvoort incurred in upgrading its facility to the standard required by Formula 1.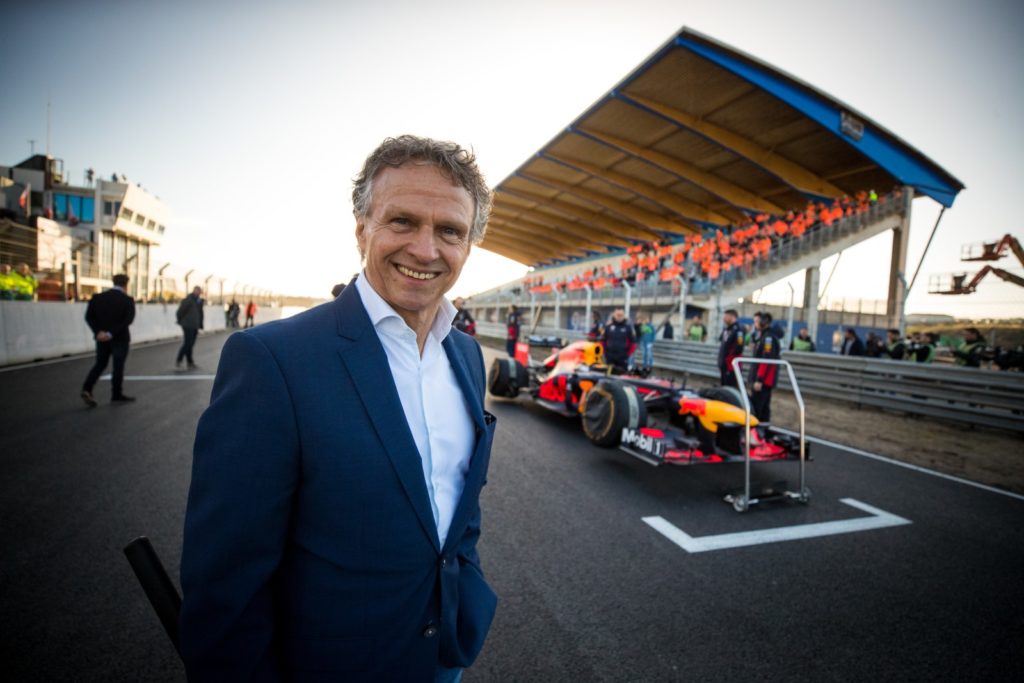 Lammers is nonetheless realistic regarding the 2020 Dutch Grand Prix, given the abundance of other events seeking revised dates, and the government's proclamation prohibiting gatherings until September 1, which has already resulted in the cancellation of the 2019/20 Eredivisie season.
"We're working with a very narrow window," he accepts. "First of all we have the 1st of September, before that we can't say anything really, unless something substantially changes, but basically until 1st of September this is the case [of not being able to hold an event].
"But even running a race without spectators would still mean you have a few thousand people in the facility, which is like a full stadium for an amateur soccer match, so where does the government stand there? We have to see if a clear question comes we have to come up with a clear answer. For that we have to check with the government where we stand.
"It looks feasible, both because of the amount of people and the timeframe we're talking about, somewhere in late September at the earliest, but we don't count on it anymore, we just have accepted it's very likely that it will simply move one year further."