Throughout Formula 1 history cars have been adorned with specific numbers, albeit with the system having changed across the 70-year 1000-race existence of the championship. After a slightly random start there was a scheme in place from the early 1970s, which changed in 1996, and then again in 2014 with the introduction of driver-specific numbers. But which numbers have had the greatest success? Motorsport Week delves into the history books.
10 | #11 | 36 wins
The #11 is now occupied by Racing Point's Sergio Perez and before the Mexican's occupation of the number it greeted the chequered flag first on 36 occasions. Sir Jack Brabham got the ball rolling in 1960 but it was when Sir Jackie Stewart ran the number for four of his victories in 1971 that the tally began mounting. James Hunt used #11 for his title-winning 1976 campaign and thus the number transferred to Ferrari and Niki Lauda for 1977, who took back his crown, claiming three victories on the way. Lauda's move to Brabham (with the #1) left Ferrari with #11 for the next two seasons, allowing Carlos Reutemann and Jody Scheckter to add to the number's success. Scheckter's 1979 title meant Ferrari and Lotus swapped numbers into 1980 – limiting #11's success thereafter – but when Nelson Piquet took the #1 to Lotus after his 1987 title victory some alteration went on. McLaren was left with #11 for Alain Prost in 1988 and he added a further seven victories. Since then only Giancarlo Fisichella, in the rain-hit 2003 Brazilian Grand Prix, has triumphed with #11.
8= | #4 | 37 wins
Nino Farina claimed #4's first victory in 1951 and the assorted allocation of the number meant the likes of Alberto Ascari, Juan Manuel Fangio, Mike Hawthorn, Jim Clark and Jackie Stewart all logged victories sporting it through the 1960s. From the mid-1970s Tyrrell was assigned #4 and its lack of success thereafter meant it retained use of the number until the system was changed for 1996 – and the sole win on that side of the garage came via Patrick Depailler in Monaco in 1978. From 1996 onwards #4 was typically run by the number two driver of the previous year's second-best team. Heinz-Harald Frentzen, Eddie Irvine, Rubens Barrichello, David Coulthard, Robert Kubica and Kimi Raikkonen all took victories sporting #4. Its last wins came courtesy of McLaren across 2010-12, firstly from Jenson Button and then Lewis Hamilton. Since the unique numbering system was introduced Max Chilton and Lando Norris have claimed #4 but have not added to its 37 wins.
8= | #12 | 37 wins
After 10 victories in the opening 22 years of Formula 1 the #12 belonged to Niki Lauda and Ferrari across 1974/75, with the Austrian adding seven wins. After a year 'on loan' to McLaren the #12 returned to Ferrari in 1977 though this time it was Carlos Reutemann and the maverick Gilles Villeneuve who added to the tally. But the bulk of #12's success came with the inestimable Ayrton Senna. Lotus gave Senna the number through the mid-1980s and upon joining McLaren he retained its use for his title-winning 1988 campaign, meaning the Brazilian was accountable for 14 of the number's 37 victories. The most recent was added by Jenson Button at the 2006 Hungarian Grand Prix, when the 2009 champion famously surged from 14th on the grid in wet/dry conditions.
7 | #8 | 47 wins
Alberto Ascari, Juan Manuel Fangio, Sir Stirling Moss and Jim Clark were all victorious with #8 but its greatest success came with McLaren. Peter Revson took victories in 1973 while in the early 1980s it was Niki Lauda who sported the number for his third world title, edging team-mate Prost. McLaren and Brabham thus swapped numbers and the latter ran #8 unsuccessfully, and when the team collapsed after 1992 McLaren re-took the number for 1993. Ayrton Senna took five wins, including his last career triumph in Australia, while in 1998 it belonged to Mika Hakkinen – under the revised scheme – who claimed eight wins and the title. Heinz-Harald Frentzen (1999) and Fernando Alonso (2003) added a few more and it took another seven years until #8 returned to the top, again courtesy of Alonso, whose Ferrari F10 sported the number in 2010. Nico Rosberg grabbed his maiden win with #8 in China 2012, which remains the number's last win; Romain Grosjean has run #8 since 2014.
6 | #3 | 62 wins
It wasn't until 1961 that #3 logged its first victory, courtesy of Wolfgang von Trips at the 1961 Dutch GP, and it remained on a relatively lowly figure until the mid-1990s, for Tyrrell held the number until 1995. After initial success with Sir Jackie Stewart and Jody Scheckter only Michele Alboreto added to the team's win tally in the early 1980s. Tyrrell's fallow phase kept #3 away from the victor's enclosure. But when the amended system was introduced in 1996 #3 was given to the lead driver of the previous year's second-best team. Consequently, it was often a front-runner. Jacques Villeneuve (1997), Michael Schumacher (1998-2000), Mika Hakkinen (2001), David Coulthard (2002), and Juan Pablo Montoya (2003/4) added to the tally, though bizarrely a six-year drought followed. McLaren got the ball rolling again courtesy of Lewis Hamilton (2011) and Jenson Button (2012), Fernando Alonso took his final two wins with #3 in 2013, while since 2014 it has adorned the front of Daniel Ricciardo's car for his seven career victories.
5 | #44 | 63 wins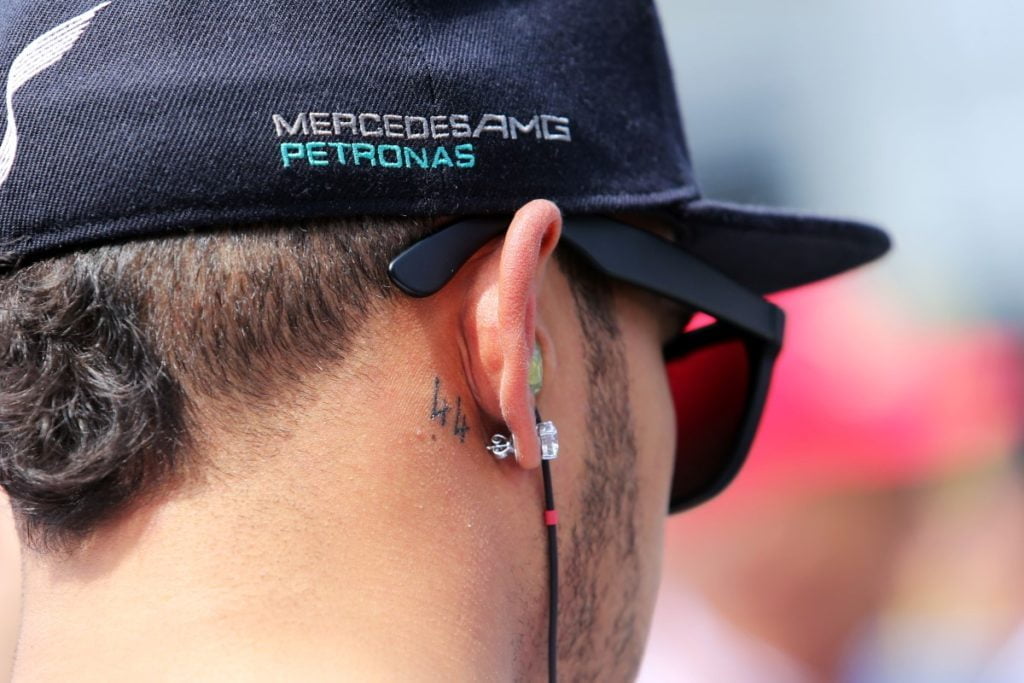 It's not a surprise, given Lewis Hamilton's success, that #44 is high up on the list. But since 2014 Hamilton has dragged the number from equal-bottom of the list to fifth. Prior to Hamilton picking the number just as Mercedes emerged as Formula 1's dominant force, #44 had triumphed just once. That victory came courtesy of Maurice Trintignant at the 1955 Monaco Grand Prix. Ironically, a dominant Mercedes team faltered and handed victory to a Ferrari – sporting #44. Juan Manuel Fangio and Sir Stirling Moss both retired from leading positions, Alberto Ascari crashed into the harbour, with the unfancied Trintignant taking victory in a scarlet red Ferrari. Hamilton picked up the mantle for #44 in 2014 and has since raced to 62 victories. Only in 2017 – when he claimed a meagre nine wins – has Hamilton not taken a double-digit number of victories across the last six years.
4 | #6 | 75 wins
6 appeal? For several race winners and champions certainly. After the anomalous early years #6 hit its stride with Williams. In fact, between 1978 and 2003 just once – courtesy of Brabham's Ricardo Patrese at the 1983 South African Grand Prix – did a non-Williams driver log a win using the number. Keke Rosberg, Nelson Piquet, Patrese (having joined Williams for 1988), David Coulthard, Jacques Villeneuve and Juan Pablo Montoya all sported the number for race victories. Kimi Raikkonen's first two wins came with the number while in 2007 he ran it en route to his world title, either side of Giancarlo Fisichella and Felipe Massa adding to the tally. Mark Webber added more wins in 2010 while when the driver number system was introduced Nico Rosberg paid homage to father Keke's 1982 title triumph by selecting six. Rosberg added another 20 wins to #6's list before retiring as champion after the 2016 Abu Dhabi Grand Prix. #6 will be back on a Williams as and when F1 returns courtesy of Nicholas Latifi.
3 | #2 | 83 wins
Not bad for a #2 driver? It's been taken to the chequered flag on 83 occasions and for the bulk of that time the driver in question has been team-mate to the reigning World Champion. The very first World Championship grand prix was won by eventual 1950 champion Nino Farina with number 2 on his Alfa Romeo. But on occasions champions – or future title-winners – themselves have sported number two. Alain Prost (1985, 89, 93) won 16 races as #2, more than he ever did running the #1 plate. In '85 he was team-mate to Niki Lauda, in '89 to Ayrton Senna, and in '93 he replaced defending champion Mansell at Williams, meaning the #1 plate was unavailable. David Coulthard, Rubens Barrichello and Felipe Massa all took multiple wins as #2, as did Lewis Hamilton, who ran it as team-mate to Fernando Alonso in 2007, and again alongside Jenson Button in 2010. Mark Webber added the most recent of #2's wins in 2012.
2 | #5 | 144 wins
Out in P2 by quite some margin is #5. But why? Well… It had a history of swapping between highly successful teams: Tyrrell in 1973, McLaren in 1974, Lotus in the late 1970s, Brabham in the early 1980s, Williams in the late 1980s and early 1990s. That gave rise to the emergence of 'red 5' courtesy of Nigel Mansell, who claimed 27 wins with the number before finally taking the 1992 title. It then went to Benetton for 1993 and after Michael Schumacher's 1994 crown with the number it retuned to Williams, where Damon Hill added more wins, and the 1996 title. Still following? Good. From that year onwards the number five typically went to the lead driver at the third-best team. That meant more wins for Schumacher in 1997 and 2006, brother Ralf in 2001/2, David Coulthard in 2003, Felipe Massa in 2007 and Fernando Alonso in 2008. Alonso sported #5 in his first title-winning campaign in 2005, and again in 2012, while in 2010 Vettel used the number for his maiden success. Vettel adopted #5 as his permanent number and has added 14 more to the tally since 2015.
1 | #1 | 181 wins
Is this any surprise? There was once a time where the reigning champion did not sport the number 1, and it is currently the case, given Hamilton's preference for keeping his #44. Johnnie Parsons, at the 1950 Indianapolis 500, Sir Stirling Moss, Jimmy Bryan – another of the anomalous Indy500 entries – Peter Collins, Pedro Rodriguez and Ronnie Peterson all ran #1 to victories without being an F1 champion. But for a 40-year spell the reigning champion had to use #1 and its victory tally accelerated rapidly, albeit with a handful of drivers standing out among the legends. Michael Schumacher's seven titles mean he sported #1 for seven years – including five in a row during his and Ferrari's supreme period. Schumacher took 52 wins with #1 while Sebastian Vettel swept to 29 victories in just a three-year spell, before unsuccessfully running #1 for the first year of the driver number system in 2014. Senna took 16 wins with #1 while perhaps one surprise is Prost, a four-time champion, taking only 12 wins as champion, albeit with the caveat that he walked away after his final title in 1993. Nico Rosberg took the 2016 title but before revealing whether he'd keep #6, or move to #1, he retired as champion.
Just missing out…
Perhaps surprising for an iconic number but 27 does not feature on this top 10 list, coming in P12, with #7 and #9 the other numbers to bag 20 victories. Altogether 43 numbers have recorded a grand prix victory, including #0, all by Damon Hill in 1993/94, as Williams sported the number after the retirements of champions Mansell and Prost. Perhaps understandably #13 – not used during the 1974-2013 system – is the lowest number without a race victory, with #29 next on the list. The most recent number to log a maiden victory is 77 – courtesy of Valtteri Bottas – while only one triple digit number has triumphed: 101, courtesy of Alberto Ascari at the 1952 Spanish GP. Drivers in the modern era are only allowed to choose numbers between 2 and 99.